Crowd Temperature Monitoring System
Crowd Temperature Monitoring System
A crowd temperature monitoring system has been developed using expertise in infrared imaging for missile applications. DRDO lab in collaboration with industry partner has innovated and developed algorithms for thermography in outdoor conditions. Advanced face detection techniques have been used over thermal images.
The system consists of a thermal camera and a desktop/laptop computer. Artificial Neural Network, trained with a very large in-house thermal database, allows face recognition directly on the running video from the IR thermal camera. A large number of people can be thermally profiled outdoors without disturbing their movements. Persons showing more than pre-set thermal threshold can be earmarked, recorded and real time inputs can be given to authorities.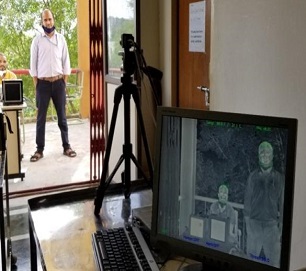 The first system developed by DRDO using its hardware and software resources has already been deployed at Hyderabad based laboratory. Test results shows that the system can be used in indoor environments as well as in areas where a large number of people may have to gather/move regularly. The two Camera and lens options have been worked out as following:-
(i) 320x240, 17u, 7mm (2-3m) 25mm (10-12m) (typical standoff)
(ii) 640x480, 17u, 50mm (25-30m typical standoff)
Estimated unit cost of the system would be about 2 – 2.5 lakhs for the basic configuration (camera, computer) with about 0.5 lakh for accessories (tripod, reference).
Test Results
A. With Black Body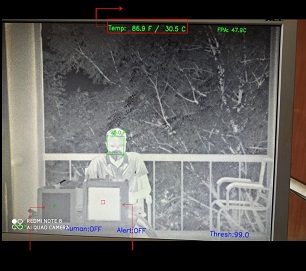 B. Humans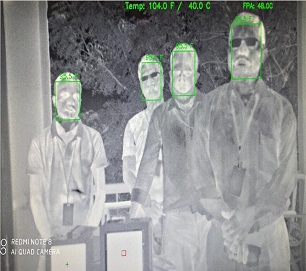 Person No

(Left To Right)

Observed Temperature (°F)

(Using Non-Contact Thermometer)

Displayed Temperature (°F)

(For Detected Gate)

1

95.6

95.5

2

95.0

95.4

3

95.8

95.5

4

95.0

94.5
For more information visit https://drdo.gov.in/crowd-temperature-monitoring-system
if you have any information regarding Job, Study Material or any other information related to career. you can Post your article on our website. Click here to
Register
& Share your contents.
For Advertisment or any query email us at
educratsweb@gmail.com
We would love to hear your thoughts, concerns or problems with anything so we can improve our website educratsweb.com ! email us at
educratsweb@gmail.com
and submit your valuable feedback.
Save this page as PDF
|
Recommend to your Friends