Tag :
#
04/08/2020
,
The State Government has already decided to celebrate the year 2020 as Susashan Sanakap Varsh and the integration of schemes of all departments with Parivar Pehchan Patras (PPP). In a unique e-governance initiative that will enable the citizens to get the benefit of various centre and state government schemes at their door-step in a fair and transparent manner, Haryana Chief Minister, Mr Manohar Lal distributed Parivar Pehchan Patra (PPP) to the eligible families on 04/08/2020 at Panchkula.
Mr Manohar Lal distributed the Parivar Pehchan Patras to heads of 20 eligible families in a function organized at Panchkula. Deputy Chief Minister, Mr Dushyant Chautala, Union Minister of State for Social Justice and Empowerment Mr Rattan Lal Kataria and Speaker Mr Gian Chand Gupta were also present on this occasion.
Apart from Panchkula, Parivar Pehchan Patras were also distributed simultaneously to the eligible beneficiaries in remaining 21 districts of the State by Cabinet Ministers, MPs, MLAs and other prominent personalities of the respected areas.
State Government has launched a campaign to prepare Parivar Pehchan Patra to provide a distinct identity to each family in the State. Out of the available record of 56.20 lakh families in the State, Golden Data of 18.19 lakh families have been prepared and these are being provided Parivar Pehchan Patras. The Parivar Pehchan Patra (PPP) portal i.e. http://meraparivar.haryana.gov.in has been designed and developed by NIC Haryana.
The Chief Minister said that with the distribution of Parivar Pehchan Patras, the State Government would not only take care of educational, health and other needs of such families but also skilling and employment of youth. To avail the benefits, the eligible beneficiaries would be required to fill up a simple form only once at their nearest Saral Kendra or Antyodaya Saral Kendra.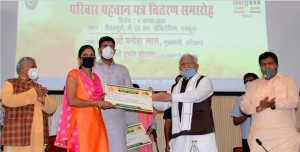 Haryana Chief Minister, Mr Manohar Lal distributing Parivar Pehchan Patra to the eligible beneficiaries on 04/08/2020 at Panchkula.
During the event, Mrs Keshni Anand Arora, Chief Secretary, Haryana, Mr T.V.S.N Prasad, Additional Chief Secretary, Finance, Sh. V. Umashankar, Additional Principal Secretary to Chief Minister, Ms. Sofia Dahiya, Secretary, Citizen Resources Information Department, Sh. Deepak Bansal, Deputy Director General & State Informatics Officer, NIC-Haryana and other senior officers of the district administration were present on this occasion at Panchkula
https://informatics.nic.in/news/1292
---
---
RELATED POST