Union Minister Dr Jitendra Singh, who is himself a known Diabetologist and medical professional, released a book on Cancer edited by noted Oncologist and Padma Shree recipient, Dr Ashok K. Vaid DM (Oncology) in a special session organized exclusively for the ceremony during the 3 -day virtual conference on Oncology beginning here from today.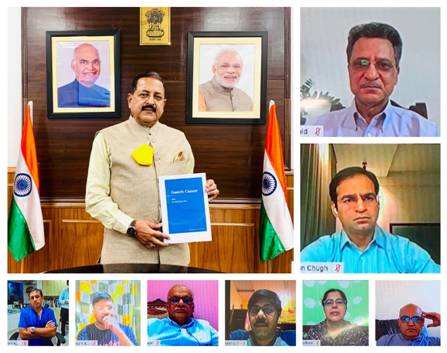 Referring to the changing spectrum of disease in India, Dr Jitendra Singh said, over the last two decades there had been a significant shift from communicable diseases to non-communicable diseases with an upsurge in disorders like Diabetes Mellitus, hypertension, Coronary Heart Disease and Cancer. Meanwhile, he said, we were suddenly taken over by COVID pandemic which has also proved to be more virulent for susceptible individuals suffering from these comorbidities and diseases.
Dr Jitendra Singh said, the prevalence of Cancer has rapidly increased across the country and has begun to affect different organs. For example, while in Jammu & Kashmir, particularly in the Valley, Gastrointestinal and Lung Cancers are more prevalent, in the North Eastern Region Cancers of head and neck take the highest toll.
Hailing the National Digital Health Mission launched by Prime Minister Narendra Modi on the Independence Day, Dr Jitendra Singh said, this is going to provide a unique health identity to every Indian citizen in order to facilitate seamless flow of information and updated healthcare. This, he said, along with Ayushman Bharat and ban on e-cigarette, have been among the major health related initiatives of the Modi government.
https://pib.gov.in/PressReleasePage.aspx?PRID=1647424
---
---
if you have any information regarding Job, Study Material or any other information related to career. you can Post your article on our website. Click here to
Register
& Share your contents.
For Advertisment or any query email us at
educratsweb@gmail.com
Submit Guest Post
Guest Post
Submit Job Information
Submit Contents
Category
Contents
Jobs
Link
Photo
Video
Business Directory
Our presence in social media
Twitter
Facebook
Telegram
Whatsapp Grroup
vk.com
Flipboard
Contact us
Contact us
Explore more
Web Archive
Free Online Practice Set
Our Blog
Search Pincode
Search Bank IFSC Code
Best Deal
Greetings
Recent Jobs
RSS
Advertise with us
Question
follow.it
Sitemap
Tag
Tag
Search
We would love to hear your thoughts, concerns or problems with anything so we can improve our website educratsweb.com !
Email us at
educratsweb@gmail.com
and submit your valuable feedback.
Save this page as PDF