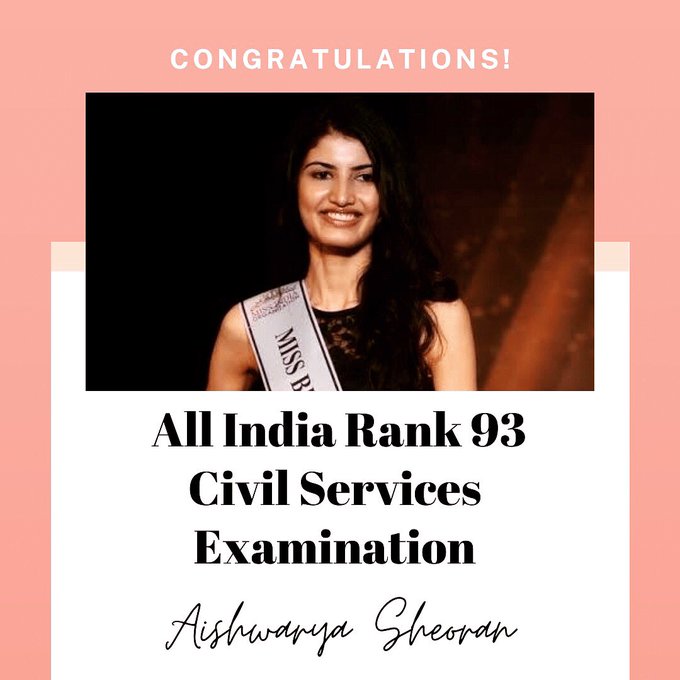 The results of the Civil Services Exam, 2019, were announced by the Union Public Service Commission on 4 August. Several inspiring success stories came to the forefront, including that of Aishwarya Sheoran, a former Miss India finalist, who defied stereotypes and went on to secure a rank of 93 in the prestigious examination.
Aishwarya Sheoran, Femina Miss India 2016 finalist, Campus Princess Delhi 2016, Freshface winner Delhi 2015 made us immensely proud as she scored the All India Rank 93 in the Civil Services Examination. A huge congratulations to her on this achievement!#AishwaryaSheoran #CSE pic.twitter.com/SrDu4iK6T0

— Miss India (@feminamissindia) August 4, 2020
"My mother named me Aishwarya after Aishwarya Rai because she wanted me to become Miss India, and I was eventually chosen in the top 21 finalists for Miss India," said Aishwarya while talking to the reporters after her name appeared in the list, as reported by Times Now.
Aishwarya, who has been a model at the Bombay Times Fashion Week, and walked for designers like Manish Malhotra, says she was always drawn towards academics. She was the Head Girl of her school. She was a science student who later got admission in Sri Ram College of Commerce.
"I thought that since I had always been good at academics, I should maybe take a break for a year or two and give civil services a try because it had always been my dream. I had to switch off my phone, social media, everything, to focus on the exam and the result is here."
Aishwarya Sheoran to TOI
She served as the Head Girl of her school. A science student, she later got admission in Sri Ram College of Commerce. Her father, Colonel Ajay Kumar, is the Commanding Officer of NCC Telangana Battalion, Karimnagar.
She says she wanted to appear for the civil services to widen the diversity in the family and to ultimately "serve the nation".
"In the army, there are opportunities for women to grow, but it is still very limited. In civil services, there is no limit to what a woman can achieve."
---
---
if you have any information regarding Job, Study Material or any other information related to career. you can Post your article on our website. Click here to
Register
& Share your contents.
For Advertisment or any query email us at
educratsweb@gmail.com
Submit Guest Post
Guest Post
Submit Job Information
Submit Contents
Category
Contents
Jobs
Link
Photo
Video
Business Directory
Our presence in social media
Twitter
Facebook
Telegram
Whatsapp Grroup
vk.com
Flipboard
Contact us
Contact us
Explore more
Web Archive
Free Online Practice Set
Our Blog
Search Pincode
Search Bank IFSC Code
Best Deal
Greetings
Recent Jobs
RSS
Advertise with us
Question
follow.it
Sitemap
Tag
Tag
Search
We would love to hear your thoughts, concerns or problems with anything so we can improve our website educratsweb.com !
Email us at
educratsweb@gmail.com
and submit your valuable feedback.
Save this page as PDF