Tag :
#
SELF-CLEANING
,
OF,
FABRICATION
,
LASER-BASED
,
METALLIC
,
SURFACES
,
RUSTING
,
PREVENT
,
HELP
,
CAN
,
ONE-STEP
,
RUSTING
,
SELF-CLEANING
,
OF,
FABRICATION
,
LASER-BASED
,
METALLIC
,
SURFACES
,
PREVENT
,
HELP
,
CAN
,
ONE-STEP
,
Ecofriendly self-cleaning surfaces that can protect biomedical and other applications from rusting and bacterial growth may soon be a reality with an ultrafast laser-based process that scientists have developed for fabrication of surfaces without use of coatings or additional surface treatment.
Scientists from International Advanced Research Centre for Powder Metallurgy & New Materials (ARCI), an autonomous institute of the Department of Science and Technology (DST), Govt. of India, at its Centre for Laser Processing of Materials, have brought out a single-step method to develop super-hydrophobic functional surfaces that have ability to repel water. Such surfaces do not allow water to cling long enough to evaporate and leave behind residue.
This indigenous laser processing, which has been published in the journal 'Materials Performance and Characterization', allows the fabrication of fast and flexible super-hydrophobic surfaces on a wide range of materials. By adjusting the laser processing parameters, in this method, it is possible to accurately control the structure pattern and precisely tailor the contact angle and the wetting properties of a variety of substrates. It is a robust, simple, fast, precise, and eco-friendly process and can be used to effectively fabricate robust super-hydrophobic surfaces and has high potential for large-scale application.
Currently, super-hydrophobic properties are achieved by developing rough surfaces and low surface free energy chemical coatings which are mostly two-step processes. The first step is to construct a rough surface by physical or chemical methods, and the second step involves chemical coatings of low surface free energy chemicals. However, these super-hydrophobic coating surfaces have many limitations, such as the use of fluorinated toxic reagent and poor mechanical stability.
In contrast, the single-step process developed by ARCI scientists comprises surface modification using a femtosecond laser (lasers emitting light pulses with durations between a few femtoseconds and hundreds of femtoseconds, i.e. 10-15 of a second), non-thermal, and ecofriendly. The efficient and straightforward strategy will encourage the scalability of the process both in terms of reducing the cycle time and applying the developed hierarchical micro-scale and nano-scale structures over large areas for practical applications in the prevention of corrosion, bacterial growth, and avoidance of repeated cleaning.
[Patent:
Ravi Bathe, K. S. Srin, and G. Padmanabham, "Method for Preparing Multifunctional and Isotropic, Uni-directional Superhydrophobic Surfaces using Ultrafast Laser" Indian Patent filed (24512/2020-DEL; dated 27/05/2020)
Publication link:
https://doi.org/10.1520/MPC20180090
For more details contact Dr. Ravi N Bathe (ravi@arci.res.in)]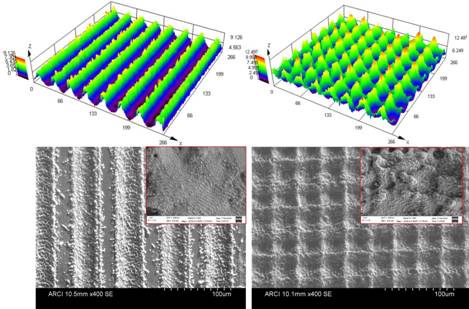 Figure 1: 3D Optical and SEM images of laser surface modified stainless steel surfaces showing microgrooves and microspikes with periodic nanostructure over it.

Figure 2: The schematic diagram shows the directional superhydrophobicity on different surface features. Profile of water droplet on laser modified stainless steel surface (contact angle ~ 170 degree).
https://pib.gov.in/PressReleseDetail.aspx?PRID=1649959
---
---
if you have any information regarding Job, Study Material or any other information related to career. you can Post your article on our website. Click here to
Register
& Share your contents.
For Advertisment or any query email us at
educratsweb@gmail.com
RELATED POST
1. INST scientists develop simple economical nonsurgical prevention of cataract
Sunday August 2 2020 : Cataract a major form of blindness that occurs when the structure of crystallin proteins that make up the lens in our eyes deteriorates, causing damaged or disorganised proteins to aggregate and form a milky blue or brown layer, which ultimately affects lens transparency. Thus, prevention of the formation of these aggregates as well as their destruction in the early stage of disease progression is a major treatment strategy for cataracts, and materials that can carry out this task could make cataract prevention affordable and accessible. A team of scientists from the Institute of Nano Science & Technology (INST) an autonomous institute under the Department of Science & Technology, Government of India has developed nanorods from the nonsteroidal anti-inflammatory drug (NSAID) Aspirin, a popular medication used to reduce pain, fever, or inflammation and found it to be an effective non–invasive small molecule-based nanotherapeutics against cataract. Their research published in the Journal of Materials Chemistry B could help prevent cataracts in an economical and less complicated way. They have used the anti-aggregation ability of self-build aspirin nanorods as an effective non –invasive small molecule-based nanotherapeutics against cataract. Aspirin nanorods prevent the aggregation of crystallin protein and various peptides derived from its fragmentation, which play a crucial role in cataract formation. They prevent the protein/peptide aggregation through biomolecular interactions, which convert beta-turn like the structure of the crystallin peptides, responsible for amyloid formation into coils and helices, those fail to aggregate. These were found to prevent cataract formation by inhibiting aggregation of crystallin, and crystallin derived peptide aggregates. As with aging and under various conditions, the lens protein crystallin aggregates to form opaque structures in the eye lens, which impairs vision and cause cataract. The targeted disaggregation of the accumulated alpha-crystallin protein and crystallin derived peptide aggregates in aged and cataractous human lenses are considered as a viable therapeutic strategy for the prevention of cataract formation. The aspirin nanorods are produced using the process of molecular self-assembly, which is a low cost and high –yield technique to generate the aspirin nanorods as compared to the high cost and laborious physical methods generally used for the synthesis of nanoparticles. Computational studies based on molecular dynamics (MD) simulations were performed to investigate the molecular mechanism of aspirin's anti-aggregation behaviour and the nature of protein (peptide)-inhibitor interactions between the synthetic peptides and aspirin. It was observed that the peptide-aspirin (inhibitor) interactions eventually transformed peptides secondary structures from beta-turns, those are responsible for the amyloids formation, into various coils and helixes, preventing its aggregation. These simulations revealed the secret behind aspirin's ability to act as a potential inhibitor towards amyloid
2. Dr. Harsh Vardhan launches Punjab National Bank Nation-wide CSR campaign for Distribution of Mask and Sanitizer to prevent Spread of COVID-19
Monday July 20 2020 : Dr. Harsh Vardhan, Union Minister of Health and Family Welfare launched Punjab National Bank's (PNB) campaign to distribute face masks and sanitizers to prevent the spread of COVID-19, here today. Shri S.S. Mallikarjuna Rao, MD and CEO, and other senior officials of PNB were also present. PNB's 22 zonal offices across the nation also participated through video conferencing. Lauding PNB's contribution to the national cause, Dr. Harsh Vardhan said, "Punjab National Bank, India's first Swadeshi Bank, was established in the spirit of nationalism and inspired by freedom fighters like Lala Lajpat Rai. It was the first bank purely managed by Indians with Indian capital. During the pre-independence period, the bank had the honour of having account of Jallianwala Bagh Committee which was subsequently operated by Mahatma Gandhi and Pandit Jawaharlal Nehru." Expressing his gratitude to PNB for taking this responsibility when the whole world is suffering from COVID19, he commented, "I am happy that PNB is supporting the efforts of the Government in fight against this Pandemic. Steps like donation in PM Cares fund and organising CSR activities for distribution of masks and sanitizers have been taken by the Bank. Use of masks and good hand hygiene promote COVID appropriate behaviour and this is the best 'social vaccine' we currently have against the disease. The Bank is distributing such material in 662 districts throughout the country and I congratulate PNB for their efforts." Recollecting the collective fight against COVID under the leadership of Prime Minister Shri Narendra Modi, he commented, "Right after China informed about the virus to the world community, the first meeting of the Committee of Experts was held within 24 hours in the Health Ministry. The country has substantially progressed from just one lab equipped to test for the novel virus in National Institute of Virology, Pune in January 2020 to about 1268 labs, as of now. Earlier
3. Vice President urges people to practice yoga and meditation to beat stress and prevent NCDs
Sunday December 20 2020 : The Vice President of India, Shri M Venkaiah Naidu today called upon the people to regularly practice Yoga and meditation and return to our traditional food habits to beat the stress caused by modern lifestyle and prevent non-communicable diseases (NCDs). Virtually launching the Society of Coronary Surgeons in Hyderabad, he pointed out that the scientific community has concluded that inappropriate lifestyle was the major cause for the raise in the cardio-vascular diseases (CVD) incidence. "Yoga relieves one of stress and keeps diseases at bay. Hence, Yoga must become part of everyone's daily routine", he added. Quoting WHO, Shri Naidu said NCDs encompass a vast group of illnesses such as cardiovascular, chronic respiratory diseases, cancer and diabetes and contribute to around 41 million (71%) of all the deaths globally and about 5.87 million (60%) of all deaths in India. Observing that the rise of NCDs was mainly due to lifestyle changes such as sedentary jobs, unhealthy and irregular dietary habits, high stress, smoking and tobacco chewing, he said that almost three quarters of all NCD deaths, and 82% of the 16 million people who died prematurely or before reaching 70 years of age, occur in low- and middle-income countries. Pointing out that the epidemic of NCDs poses devastating consequences for individuals, families and communities, the Vice President, he appreciated the initiative to form the Society of Coronary Surgeons with a mission to prevent CVDs and the immense the loss caused by them in terms of affecting productive people. The Vice President urged the members of SCS to focus on the disease burden in the rural areas. He said that a majority of the people live in the rural areas and are equally exposed to the risk factors of cardio-vascular disease. Expressing his concern over the lack of modern and advanced healthcare facilities in most of the rural areas,the Vice President urged the private sector to join hands with the government in bringing the latest healthcare diagnostic and treatment facilities to the rural areas at affordable cost through public-private partnerships. Referring to the doctor-patient ratio in India, which was lower than the WHO norm of one doctor for 1,000 people, Shri Naidu said it has to be addressed urgently and the private sector must complement the efforts of the government in providing affordable medical education. With majority of the people meeting the medical costs through out-of-pocket expenses, the Vice President said that there was a huge need to step up insurance coverage. He lauded Ayushman Bharat, the flagship programme of the government of India, as a truly praiseworthy initiative that seeks to provide health cover of Rs. 5 lakhs per family per year for secondary and tertiary care hospitalization to over 10.74 crores poor and vulnerable families. In this regard, VP appealed to the medical fraternity to ensure that affordable healthcare is available to all and treatment costs are brought down. He also emphasised that ethics should be followed by everyone including those in medical prof
4. IIT Guwahati discovers new ways to prevent memory loss due to Alzheimer
Thursday May 21 2020 : Researchers at Indian Institute of Technology (IIT) Guwahati has worked on out-of-the-box ideas that can help prevent or reduce short-term memory losses associated with Alzheimer's disease. The research team was headed by Prof. Vibin Ramakrishnan, Professor, Department of Biosciences & Bioengineering, IIT Guwahati, and Prof. HarshalNemade, Professor, Department of Electronics and Electrical Engineering, IIT Guwahati. They studied the neurochemical principles of Alzheimer's, and explored new ways to prevent accumulation of neurotoxic molecules in the brain that are associated with short-term memory loss. The IIT Guwahati team reports interesting methods such as application of low-voltage electric field, and the use of 'trojan peptides' to arrest aggregation of neurotoxic molecules in the brain. The scientists are assisted by research scholars Dr. Gaurav Pandey and Mr. JahnuSaikia in their work. The results of their studies have been published in reputed journals such as ACS Chemical Neuroscience, RSC Advances of Royal Society of Chemistry, BBA and Neuropeptides. The development of a cure for Alzheimer's disease assumes importance India as it has the third highest number of Alzheimer's patients in the world, after China and US, with more than four million people falling prey to the memory loss associated with it. While current treatments only alleviate some of the symptoms of the disease, there is no disruptive therapeutic approach yet that can treat the underlying causes of Alzheimer's. "Approximately hundred potential drugs for treatment of Alzheimer's disease have failed between 1998 and 2011, which shows the gravity of the problem," says Dr. Ramakrishnan, who participates in worldwide efforts at finding cures for the disease. A defining hallmark of Alzheimer's is the accumulation of amyloid beta peptides in the brain. Dr. Ramakrishnan and Dr. Nemade seek methods to reduce the accumulation of these peptides, in order to arrest the progression of Alzheimer's. In 2019, the IIT Guwahati scientists found that application of a low-voltage, safe electrical field can reduce the formation and accumulation of toxic neurodegenerative molecules that cause short-term memory loss in Alzheimer's disease. They found that external electric/magnetic field modulates the structure of these peptide molecules, thereby preventing aggregation. "Upon exposure to electric field, we could retard the degeneration of nerve cells to an extent of 17–35%. Objectively, this would translate to about 10 years delay in the onset of the disease", says Dr. Ramakrishnan. Working further in this area, the scientists explored the possibility of using 'Trojan peptides' to arrest aggregation of these neurotoxic molecules. The idea of using 'Trojan peptide' comes from mythological "Trojan Horse" used as subterfuge by the Greeks in the battle of Troy. The researchers have designed Trojan peptides by adopting a similar approach of 'deceit' to impede the
5. NITI Aayog convenes the National Convention on Prevention of Maternal, Adolescent and Childhood Obesity
Friday June 25 2021 : NITI Aayog convened the National Convention on Prevention of Maternal, Adolescent and Childhood Obesity under the chairmanship of Dr. V.K. Paul, Member (Health), NITI Aayog and Co-chairmanship of Dr. R Hemalatha, Director, Nutrition Institute of India. Presenting the problem, Dr.Rakesh Sarwal, Additional Secretary (Health and Nutrition), NITI Aayog described obesity as a "silent epidemic" .In the National Consultation global experts, representatives from UN bodies, central ministries and national research institutions presented their evidence regarding increasing prevalence of obesity and presented best practices for obesity reduction. Arjan de Wagt, Chief Nutrition, UNICEF presented evidence onthe increasing burden of over nutrition in India. Professor William Joe, IEG shared valuable data on the current and emerging trends of obesity in certain geographies of India. Shariqua Yunus, Head of Unit and Programme Officer (Health and Nutrition), WFP emphasized on the need to diversify food-based social safety nets to prevent obesity. Monika Arora, Director of Health Promotion Division, PHFI along with Rachita Gupta, National Professional Officer (Nutrition) WHO deliberated on obesogenic marketing strategies on Indian Television.Global experts Kathryn Backholer, Professor at Deakin University and Tim Lobstein, Policy Director, World Obesity Federation conveyed how obese population is an unhealthy population and the cost of treating obesity, is the cost of junk food marketing. In the convention, Secretaries of Ministry of AYUSH and Department of Youth Affairs placed their suggestions on promoting healthy behaviour.Senior officers of Ministry of Health & Family Welfare, Ministry of Women & Child Development, Ministry of Human Resource Development and Ministry of Information & Broadcasting echoed the need for introducing behavioural change and a favourable policy landscape.UNICEF Country representative, YasmineHaque also endorsed the same. All panellists expressed unanimous need to address this issue on a priority basis, with a resounding emphasis on better mass communication around encouraging physical activity, healthy eating and lifestyle. A need for a whole of government and a whole of society approach was emphasised in tackling the twin challenge of obesity and under. An urgent need for adopting strategies related to fiscal measures, regulating front-of-package labelling, promoting healthy diet, physical activity and lifestyle options emerged as key themes for future deliberations and actions. In conclusion, Dr. V.K Paul, Member (Health and Nutrition), NITI Aayog called for a multi-sectoral approach targeting the adolescents to promote activity and healthy lifestyle.