Tag :
#
TO,
TO,
The Sports Authority of India regional center in Mumbai organised an online interaction with Table Tennis player Madhurika Patkar on Monday. The paddler, who won the Arjuna Awards in 2020, at the virtual National Sports Awards last month, spoke on the importance of the ongoing Fit India Freedom Run.
Organised by the Sports Ministry, it is the largest country-wideRun that was launched on August 14 by the Union Minister of Sports & Youth Affairs Shri Kiren Rijiju. The run, to go on till October 2, has been lapped up by sportspersons and non-sportspersons from all spheres and seen major reception.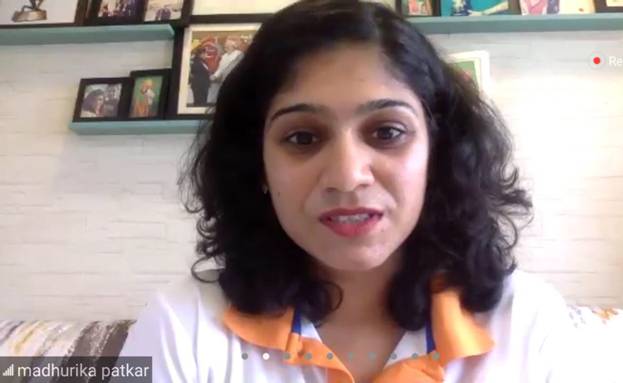 "This is a step towards making our country fitter. We all can participate to make India a fit country. We all have been confined to our home during the lockdown but now that we can step out gradually, it's a great time to get connected with running. It is a basic exercise. I thank the Sports Ministry, and especially our Hon'ble Sports Minister Kiren Rijiju for starting the Fit India Freedom Run during this period. I want to appeal to everyone to participate in the Fit India Freedom Run," Madhurika said.
The 33-year-old also added that running in a group brings great benefits. "When I go outdoors for runs, I feel attuned to nature and it is a very enriching experience for me. First, we need to begin with ourselves and then we can inspire others to get involved. We have to invite our friends even if they are reluctant. Once one starts running, they will start loving it. When we have a group, the exercise feels more enjoyable," she added.
Susmita R Jyotsi, the Regional Director of SAI center in Mumbai, lauded the fitness mantra given by Madhurika and mentioned we should always motivate others four-fold.
"Madhurika, your words are very motivating. Looking at you, many will get inspired. In this current scenario, fitness is the only way to stay fit and fight the pandemic. Athletes are our national icons and each should motivate four others to join this unique run. That will be a great achievement. If 100 people are inspired, they should inspire 400 more," said RD, SAI Mumbai.
Sources PIB https://pib.gov.in/PressReleseDetail.aspx?PRID=1652087
---
---
if you have any information regarding Job, Study Material or any other information related to career. you can Post your article on our website. Click here to
Register
& Share your contents.
For Advertisment or any query email us at
educratsweb@gmail.com
Submit Guest Post
Guest Post
Submit Job Information
Submit Contents
Category
Contents
Jobs
Link
Photo
Video
Business Directory
Our presence in social media
Twitter
Facebook
Telegram
Whatsapp Grroup
vk.com
Flipboard
Contact us
Contact us
Explore more
Web Archive
Free Online Practice Set
Our Blog
Search Pincode
Search Bank IFSC Code
Best Deal
Greetings
Recent Jobs
RSS
Advertise with us
Question
follow.it
Sitemap
Tag
Tag
Search
We would love to hear your thoughts, concerns or problems with anything so we can improve our website educratsweb.com !
Email us at
educratsweb@gmail.com
and submit your valuable feedback.
Save this page as PDF