Speaking at a webinar on the first ever International Day of Clean Air For Blue Skies Union Environment Minister Prakash Javadekar has said that the government is committed to reduce the Air polllution level in 122 most polluted cities. Underscoring the problem of Air Pollution the Environment Minister said that in 2014, the government launched the Air Quality Index (AQI) monitoring and today we are tracking the levels of Pollution on eight parameters.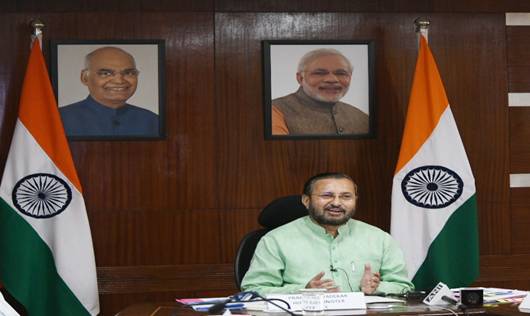 The minister also thanked Prime Minister ,Shri Narendra Modi for bringing the issue of Air Pollution in his Independence Day Speech and putting across the goal of Holistic improvement in Air Quality in 100 cities. Prime Minister himself is detrimined to bring this change,said the union Environment Minister.
Shri Javadekar alongwith Minister of State,Shri Babul Supriyo and Secretary, Ministry of Environment, Shri R P Gupta launched a brochure on Integrated Measures to Combat Air Pollution under the National Clean Air Programme(NCAP). (Link)
The Minister said that with the country now having migrated to BS-VI standards, quality petrol and diesel is provided in the country, which is an important intiative to fight against pollution. He said that in the last few years, roads and highways are being constructed by the government at a record pace and due to this less pollution is taking place in comparison to previous times.
Stressing that States must now work with city specific plans, as every city has different source of pollution the Environment Minister said that the use of electric vehicle must be encouraged. He said, Brick kilns in various states should adopt zig zag technology to reduce pollution emerging out of them. The Union Minister said that people participation is must to clean the air. Car-pooling and use of public transport must be promoted.
In January last year, the Environment Ministry had launched National Clean Air Programme (NCAP) to tackle the problem of air pollution in a comprehensive manner with a target to achieve 20 to 30 percent reduction in PM 10 and PM 2.5 concentrations by 2024 keeping 2017 as base year. The plan identified earlier 102 non-attainment cities, across 23 States and Union Territories. 20 more non-attainment cities have been included under NCAP based on latest data trend on air quality.
The webinar which was organized by the Ministry of Environment,Forest and Climate Change on the occasion of first ever International Day of Clean Air For Blue Skies was attended by Principal Secretaries of the Urban Development Department and Environment Department of 28 states and 8 Union Territories. Commissioner of 122 cities as identified in NCAP programme also participated and put forth their experiences and best practices.
The General Assembly of United Nations on 19 December 2019 adopted a resolution to observe the International Day of Clean Air for Blue Skies on 07th September every year starting from 2020.
Sources https://pib.gov.in/PressReleseDetail.aspx?PRID=1652095
---
---
if you have any information regarding Job, Study Material or any other information related to career. you can Post your article on our website. Click here to
Register
& Share your contents.
For Advertisment or any query email us at
educratsweb@gmail.com
Submit Guest Post
Guest Post
Submit Job Information
Submit Contents
Category
Contents
Jobs
Link
Photo
Video
Business Directory
Our presence in social media
Twitter
Facebook
Telegram
Whatsapp Grroup
vk.com
Flipboard
Contact us
Contact us
Explore more
Web Archive
Free Online Practice Set
Our Blog
Search Pincode
Search Bank IFSC Code
Best Deal
Greetings
Recent Jobs
RSS
Advertise with us
Question
follow.it
Sitemap
Tag
Tag
Search
We would love to hear your thoughts, concerns or problems with anything so we can improve our website educratsweb.com !
Email us at
educratsweb@gmail.com
and submit your valuable feedback.
Save this page as PDF