Tag :
#
₹24.38
,
REC
,
CSR
,
Shri. R. K. Singh, the Minister of State (IC) for Power & New and Renewable Energy today laid foundation stone for the CSR projects to be undertaken by REC Ltd. (Formerly Rural Electrification Corporation) worth ₹24.38 Crore, in Muzaffarpur (Aspirational District), Bihar, through video conferencing on 19th September 2020. The projects include following interventions: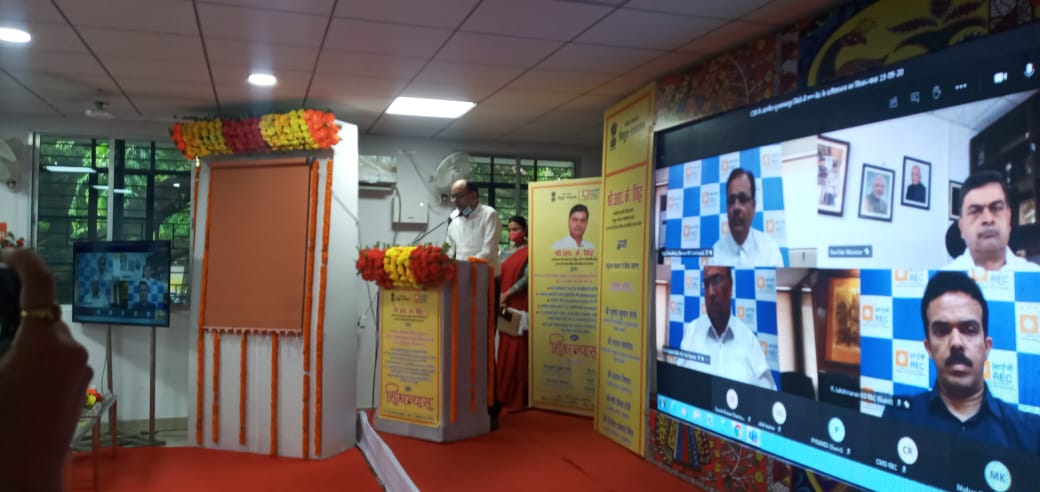 Construction of 100 bedded waiting hall for the attendant of patients, multipurpose hall and incubation center at Sadar Hospital and procurement & installation of 25 nos. of incubators at District Hospital and PHCs.
Renovation 50 nos. of Anganwadi Centers (AWCs) and providing containers for storing food grains, LPG gas connection & setting up of Antenatal care corners in 1125 nos. AWCs.
Construction of 200 bedded rest room (Vishram Sadan) for patient's attendants in Sri Krishna Medical College & Hospital, Muzaffarpur.
The objective of the project is to improve and provide better health services to the people residing in and around the aspirational district Muzaffarpur, Bihar. Shri S. K. Gupta, CMD, REC Ltd. Shri Ajoy Choudhury, Director (Finance), REC Ltd., Shri R. Lakshmanan, IAS, ED, REC Ltd. shared their thoughts on the occasion. Dr. Chandre Shekhar Singh, District Magistrate, Muzaffarpur and other district officials from the district were present to grace the occasion. The event was also graced by Shri Suresh Kumar Sharma, Hon'ble Minister of Urban Development and Housing Department, Government of Bihar, Smt. Indra Devi District Council President, Shri. Dinesh Prasad Singh, Councilor.
Sources https://pib.gov.in/PressReleseDetail.aspx?PRID=1656724
---
---
if you have any information regarding Job, Study Material or any other information related to career. you can Post your article on our website. Click here to
Register
& Share your contents.
For Advertisment or any query email us at
educratsweb@gmail.com
Submit Guest Post
Guest Post
Submit Job Information
Submit Contents
Category
Contents
Jobs
Link
Photo
Video
Business Directory
Our presence in social media
Twitter
Facebook
Telegram
Whatsapp Grroup
vk.com
Flipboard
Contact us
Contact us
Explore more
Web Archive
Free Online Practice Set
Our Blog
Search Pincode
Search Bank IFSC Code
Best Deal
Greetings
Recent Jobs
RSS
Advertise with us
Question
follow.it
Sitemap
Tag
Tag
Search
We would love to hear your thoughts, concerns or problems with anything so we can improve our website educratsweb.com !
Email us at
educratsweb@gmail.com
and submit your valuable feedback.
Save this page as PDF