Tag :
#
AIRPORT
,
UPGRADATION
,
JABALPUR
,
UPGRADATION
,
AIRPORT
,
JABALPUR
,
Catering to a growing city of promising tourism options, Jabalpur airport is witnessing the rise in passenger traffic. The Airport is now getting upgraded to provide better services to the air travellers of the region. The upgradation work undertaken at the airport includes construction of New Terminal Building, ATC Tower and Technical Block, Fire Station Category VII, other buildings and extension of runway & associated works. State government handed over 468.43 acres of land to AAI for development work in 2015, total land measuring to 775 acres.
The new terminal building equipped with world-class passenger facilities will have the capacity to handle 500 passengers during peak hours. Spread over an area of 115180 sqft, the terminal building will have three aerobridges, advanced baggage screening system, modern food court in the landscape area and well-planned car parking for more than 250 cars and buses. The proposed terminal building will welcome the passengers with glimpses of vibrant Gond paintings, local handicrafts, murals and popular tourist destinations of Madhya Pradesh.
The new building will be built with eco-friendly sustainable material and equipped with solar plant and energy efficient equipment. An efficient solid waste management system, reuse of treated water for horticulture purposes and rain water harvesting system with Sustainable Urban Drainage System are few other green features of the airport upgradation project
Apart from the construction of new terminal building, the upgradation work with project cost of Rs. 412 crores also include extension of runway to make airport suitable for operation of Airbus 320 type of aircraft, construction of 32-metre-high New ATC Tower and Technical block (G+2) with all modern facilities, fire station (Category-VII) and other ancillary buildings like utility block, gate house etc.
The tentative date for completion of the project is next year i.e. December, 2021 and the new terminal building is likely to be commissioned by March, 2022. Gateway to the tourist attractions like Kanha National Park, Bandhavgarh National Park, marble cliffs and waterfalls at nearby Bhedaghat, the airport serves the whole of eastern Madhya Pradesh, especially the Mahakaushal region. The new upgraded Jabalpur airport will play a pivotal role in the development of Jabalpur city and will boost growing tourism industry in the region.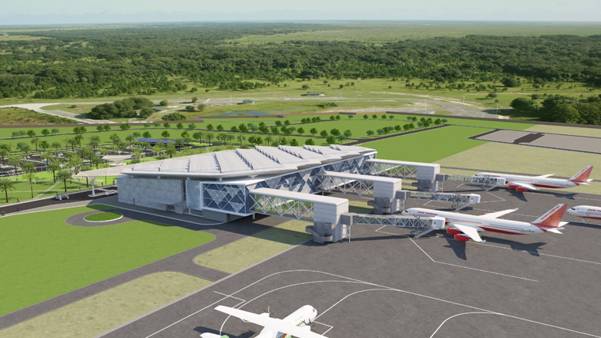 TERMINAL BUILDING –AIR SIDE VIEW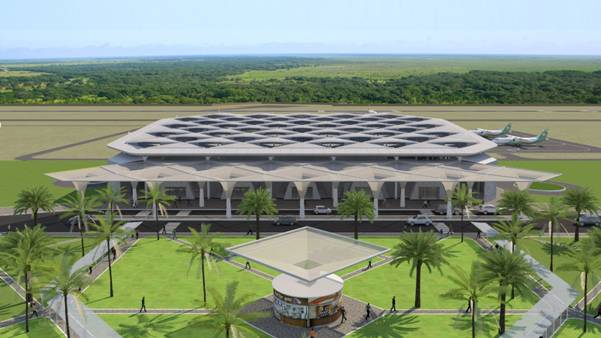 TERMINAL BUILDING –CITY SIDE VIEW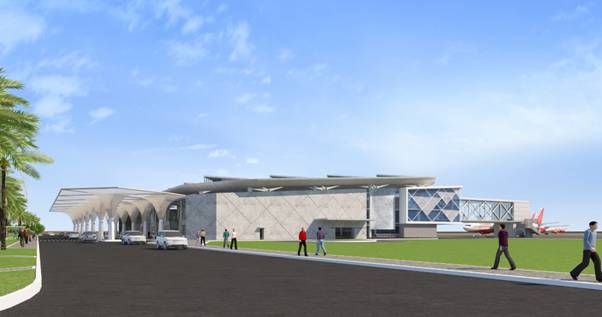 TERMINAL BUILDING –SIDE VIEW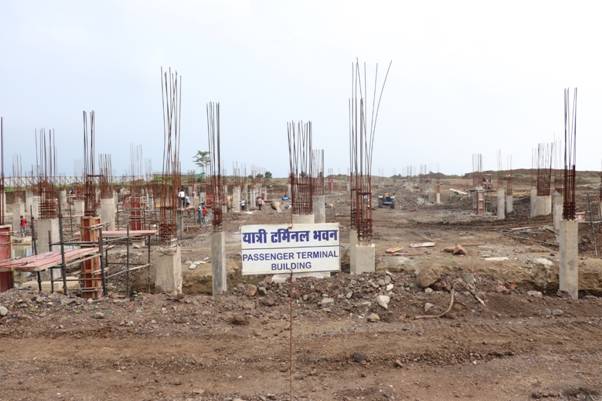 WORK IN PROGRESS
Sources https://pib.gov.in/PressReleasePage.aspx?PRID=1660043
---
---
if you have any information regarding Job, Study Material or any other information related to career. you can Post your article on our website. Click here to
Register
& Share your contents.
For Advertisment or any query email us at
educratsweb@gmail.com
RELATED POST
1. Tourist Places in Damoh, Madhya Pradesh
Wednesday September 23 2020 : Tourist Places in Damoh, Madhya Pradesh Kundalpur Kundalpur : Kundalpur is a historical pilgrimage site for Jainism in India. It is located at Kundalgiri, Kundalpur, Damoh district, Madhya Pradesh, 35 km from the city of Damoh. Kundalpur has a statue of Bade Baba (Adinath) in sitting (Padmasana) posture. Bandakpur Bandakpur : Bandakpur is though a small town in the district of Damoh in Madhya Pradesh, but is well known for the famous temple of Lord Shiva – The Jageshwar Nath temple. Large Mela gathering happens every year on Basant Panchami and Shivratri. Crowd gathers on Somvati Amavasya also. There is main temple where shiva-Linga is situated in main sanctum. There are temples for other deities- Radha-Krishna, Durga Devi, Kaal-Bhairav, Lord Vishnu, Lakshmi Devi, Devi Narmada etc. Sources https://s30f28b5d49b3020afeecd95b4009adf4c.s3waas.gov.in/en/tourist-places/
2. Places of Tourist Interest in Dindori, Madhya Pradesh
Wednesday September 23 2020 : Places of Tourist Interest in Dindori, Madhya Pradesh National Fossil Park, Ghughwa Ghughwa National fossils Park is situated 70km from Dindori in village Ghughwa. It is nestled in an area of 75 acres of land where attractive and rare fossils of leaves and trees are waiting to be explored. This National Park has plants in fossil form that existed in India anywhere between 40 million and 150 million years ago. Petrified trunks of trees have been identified as gymnosperms and Angiosperms Monocotyledons and palms. There are certain Bryophytes also. Depending on the age in which the Pangaea split into Laurasia and Gondwana land occurred, the fossils belong to either Jurassic or Cretaceous Age. Karopani Natural Deer Park Village Karopani is a classic example of mutual co-existence of humans and wildlife. Rare species of black bucks and spotted deer can be easily seen in Karopani which is just 4kms from the state Highway No. 22 going towards Amarkantak Sources https://s315de21c670ae7c3f6f3f1f37029303c9.s3waas.gov.in/en/tourist-places/
3. Jal Jeevan Mission: Madhya Pradesh Plans to Provide 22 Lakh Tap Connections by March, 2022
Saturday April 17 2021 : Madhya Pradesh presented their Annual Action Plan (AAP)under Jal Jeevan Mission (JJM)today via video conferencing setting out the State's action plan to provide tap water connections to rural households in 2021-22 as well as the saturation plan, so that every rural home of the State gets tap water supply in a time-bound manner. Madhya Pradesh is likely to get about Rs 3,000 Crore Central fund in 2021-22. Considering this quantum jump of allocation of almost 2.5 times of previous year, the State has to make provision for matching State share and prepare a realistic expenditure plan for effective utilization funds. A month-long planning exerciseis currently underway which involves two States/ UTs presenting their AAP dailyto a committee chaired by Secretary, Department of drinking Water & Sanitation, Ministry of Jal Shaktiand members from different Central Ministries/ Departments and NITI Aayog. The committee jointly reviews the proposed Annual Action Plan (AAP) before finalizing the same. Thereafter, fund is released in tranches throughout the year and regular field visits, review meetings are held to ensure implementation of the AAP to achieve the goal of Jal Jeevan Mission. Madhya Pradesh has 1.23 Crore rural households, out of which 37.69 lakh (31%) have tap water supply in their homes. In 2020-21, Madhya Pradesh has provided 19.89 lakh tap water connections and has been one of the top performers in the country under Jal Jeevan Mission. In 2021-22, the State has planned for saturation of 7 districts and 22 lakh new tap water connections. The national committee advised the State to cover more districts and particularly give emphasis to increase the coveragein priority areassuch as SC/ST dominated habitations, water quality-affected areas, water-scarce areas, Aspirational districts, PVTG habitations, etc. The State was asked to give priority to water testing for bacteriological & chemical contamination of water. Community to be encouraged for surveillance of water quality. PHE Department is facilitating to empower and engage with the community. For this, an action plan is carried out to incorporate the various planned activities like timely procurement of kits, supply of kits to the community, identification of at least five women in every village, training women for use of Field Test Kits and reporting and collating the reports with laboratory-based findings of the water sources. The State has done some remarkable work by accrediting 28 water testing laboratories last year and it will be helpful for the people to go to these laboratories to test the quality of water. The State also plans to take up NABL accreditation of 23 out of 51 district labs in 2021-22. Union Government's flagship programme, Jal Jeevan Mission – Har Ghar Jal is under implementation in partnership with States/ UTs to provide household tap water connection to every rural home of the country by 2024. In 2021-22, in addition to the Rs 50,000 Crore budgetary allocation for JJM, there is also Rs. 26,940 Crore assured fund available under the 15th Finance Commission tied-grants to RLB/ PRIs for water &a
4. Madhya Pradesh village celebrates Jal Utsav to welcome tap water connection
Tuesday January 19 2021 : Yes! The smile is for real for the four-year-old 'Muskaan'. It's a first time in her life she is seeing tap water connection in her household. As her mother prepares to worship the tap, she could barely wait for the 'pooja' to be over, and insists to open the tap to enjoy & feel the first gush of water. Finally, her patience paid off; With one swish of the tap, clean water gushed out & Muskaan bursts into giggles and claps. "I can drink water during my playtime without pestering my mother for it"- gleefully chirps Muskaan! This is how freedom & 'ease of living' looks like for the four-year-old girl. Muskaan's mother reverberates the same happiness. For her, the tap water meant better health for her kids and ample quality time for herself. Damhedi village of Anuppur District of Madhya Pradesh celebrated 'Jal Utsav' to welcome tap water connections in their households on 15th January, 2021. The village was decked up with rangolis and flower decorations & villagers were in their finest clothes & tribal accessories. The festivities included tribal songs, dance & music which filled the whole atmosphere with the spirit of joy. The village which mostly comprises of tribal population has suffered paucity of potable water in their area since ever. But now, it's a double dip of celebration for them as the availability of tap water has provided 'ease of living' to the community as well as has brought their revered river Narmada to their homes. Women were seen worshipping and bowing before the tap, as a mark of respect to their river deity. "I feel blessed as the mother river, lovingly called 'Maiyya' (mother in local language) has come to my doorstep to bless me"- says a village lady. Jal Jeevan Mission (JJM), the flagship programme of Union Government is ensuring safe drinking water to every rural household of the country. Jal Jeevan Mission envisages adoption of participatory approach for ensuring safe and sustainable rural water supply for every household. In this light Madhya Pradesh Jal Nigam is implementing 58 Multi Village Schemes (MVS) in about 6,896 villages in 34 districts to ensure the availability of water for drinking and other domestic purposes throughout the year. To take the mission forward, Damhedi -1 Muti Village Rural Water Scheme in Pushprajgarh block became functional on 15th January, 2021. The MVS is located in Anuppur district, which consists of 74 villages. Jal Jeevan Mission (JJM) envisions that every rural household has drinking water supply in adequate quantity of prescribed quality on regular and long-term basis at affordable service delivery charges leading to improvement in living standards of rural communities. In Madhya Pradesh, to enhance the piped water coverage through tap wa
5. Tourist Places in Neemuch, Madhya Pradesh
Wednesday September 23 2020 : Tourist Places in Neemuch, Madhya Pradesh Bhadwa Mata Temple A holy place that is famous for whole state is another location for travelers. This temple is having huge religious values for local people. You might face some heavy crowd on weekends or religious holidays so plan your trip according to your comfort. You have to cover the distance of 19 km from town to reach temple. Local people have huge faith in Bhadwa Mata as they believe taking bath with well located in temple area gets cure from paralysis disease and Polio. Navaratri is the major festival of this temple when priest decorate Mata Idol with beautiful clothes and jewelries. Sukhanandji Ashram The initial place to visit in town is Sukhanand temple of Lord Shiva. The word Sukhanand means peace and joy so you are definitely going to enjoy the place. Sukhanand temple is 20 km away from Nimach. Public transport is available for the temple so reaching spot is not difficult task. People also refer this place as Nilkanth Mahadev temple. Gandhisagar Dam A big dam in this region is located at 100 km distance known as Gandhi Sagar. This place is all time favorite as many people reach this spot throughout the year. You can enjoy the dam, you can swim in some areas and you can also take pleasure of green scenery surrounding. If you like to learn about turbine then this dam area is best place for you. However, take the permission first before entering the restricted area of dam.
6. Places of Tourist Interest in Alirajpur, Madhya Pradesh
Wednesday September 23 2020 : Chandra Shekhar Azad Nagar (Bhabhra) One of the five tehsils of Alirajpur district, Bhabhra is the birthplace of the famous revolutionary Shri Chandra Shekhar Azad. The name of Bhabhra tehsil has been changed and it is now known as Chandra Shekhar Azad Nagar. The main attraction in the city is the hut (home) of great revolutionary Chandra Shekhar Azad, place where he spent his childhood and then came out from here and played an important role in India's independence struggle. Chandra Shekhar Aazad nagar is located about 40 kilometer distance from the district headquarter. Katthiwada Katthiwada, another tehsil of the district Alirajpur,it is famous for its natural beauty. The district has the highest rainfall in the Katthiwada region. In rainy season, there is a natural waterfall starts and natural beauty comes out in a delightful manner which is the center of attraction for tourists. This area is also known for world's famous Mango species called Nurjahan. Sources https://s33295c76acbf4caaed33c36b1b5fc2cb1.s3waas.gov.in/en/tourist-places/
7. Tourist Places in Rajgarh, Madhya Pradesh
Wednesday September 23 2020 : Tourist Places in Rajgarh, Madhya Pradesh Anjanilal Mandir Biaora About 45 years ago, Lord Anjani Lalji was seated on a platform in a secluded area amidst dense thickets away from the city. But with the cooperation of all, this uninhabited, desolate place has now become a delightful site. It is run by the Sri Anjaneelal Temple Committee. Anjanilal Temple Dham is situated on the banks of the river Ajnar at dushera ground. A grand and huge red stone carved entrance has been built at the entrance of Shri Anjane Lal Mandir Dham. Three amazing pillars of dham • Lord Shri Ram temple • Lord Shree Anjanilal Temple under construction • Lord dwadas jyotir ligeshwar Mahadev Temple A grand huge and scenic temple has been constructed by the trust just opposite the temple of Shri Anjane Lal. In which Lord Rama is seated with Shri Mata Janaki, Shri Laxman Ji and Shri Anjane Lal. The shape of the temple is similar to that of a grand palace with white Makrana marble on the outside and inside. In which the beautiful carvings, jaalis, huge curtains and faunas give an attractive look to the temple. The idols of God are enchanting. Their visions bring a supernatural joy and peace to the mind and fulfillment of all desires and desires. The huge Satsang Bhawan was built with a grand and beautiful RCC hall of 100 X 30 feet, in which about 3000 listeners can sit and enjoy satsang comfortably. Along with this hall, 3 rooms with all facilities were also constructed for the accommodation of scholars. For more information Visit website :https://www.anjanilalmandir.in/ Veshnodevi Temple Suthalia-Biaora Veshnodevi Temple is near tehsil Suthalia situated on the Maksudangarh-Latteri road. In this temple Maa Veshnodham Cave has also been constructed which gives the impression of Vaishno devi Temple of Jammu Katra. Distance from Biaora is 26KM Kapileshwar Mahadev Temple-Sarangpur Kapileshwar