The indigenously developed Laser Guided Anti Tank Guided Missile (ATGM) was successfully test fired today on 1st Oct 2020 defeating a target located at longer range. The test was conducted from MBT Arjun at KK ranges (ACC&S) Ahmednagar in continuation of successful trial done on 22nd Sep 2020.
The ATGM employs a tandem HEAT warhead to defeat Explosive Reactive Armour (ERA) protected armoured vehicles in ranges from 1.5 to 5 km. It has been developed with multiple-platform launch capability and is currently undergoing technical evaluation trials from 120 mm rifled gun of MBT Arjun.
This Laser Guided Missile has been developed by Armament R&D Establishment (ARDE), Pune in association with High Energy Materials Research Laboratory (HEMRL), Pune and Instruments Research & Development Establishment (IRDE), Dehradun.
Raksha Mantri Shri Rajnath Singh congratulated DRDO for this successful feat. Secretary DD R&D and Chairman DRDO congratulated DRDO personnel for this achievement which paves the way for Atmanirbhar Bharat pledge of Hon'ble Prime Minister Shri Narendra Modi.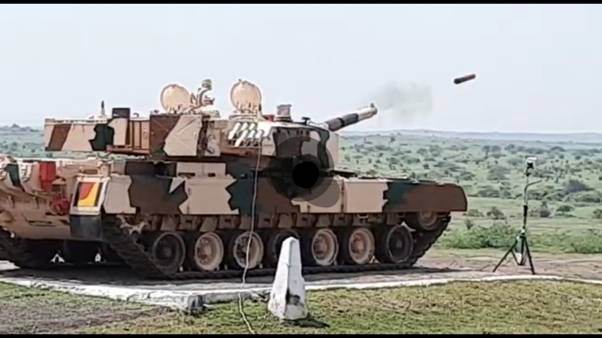 Sources https://www.pib.gov.in/PressReleasePage.aspx?PRID=1660687
---
---
if you have any information regarding Job, Study Material or any other information related to career. you can Post your article on our website. Click here to
Register
& Share your contents.
For Advertisment or any query email us at
educratsweb@gmail.com
Submit Guest Post
Guest Post
Submit Job Information
Submit Contents
Category
Contents
Jobs
Link
Photo
Video
Business Directory
Our presence in social media
Twitter
Facebook
Telegram
Whatsapp Grroup
vk.com
Flipboard
Contact us
Contact us
Explore more
Web Archive
Free Online Practice Set
Our Blog
Search Pincode
Search Bank IFSC Code
Best Deal
Greetings
Recent Jobs
RSS
Advertise with us
Question
follow.it
Sitemap
Tag
Tag
Search
We would love to hear your thoughts, concerns or problems with anything so we can improve our website educratsweb.com !
Email us at
educratsweb@gmail.com
and submit your valuable feedback.
Save this page as PDF