Union Minister for Education Sh. Ramesh Pokhriyal 'Nishank' will virtually inaugurate the newly constructed buildings of Four Kendriya Vidyalayas on 8th October 2020 through Video Conferencing. The Four KV Buildings to be inaugurated are KV Nayagarh (Odisha), KV Mahuldiha, Rairangpur (Odisha), KV Hanumangarh (Rajasthan) and KV No. 3 Faridabad (Haryana).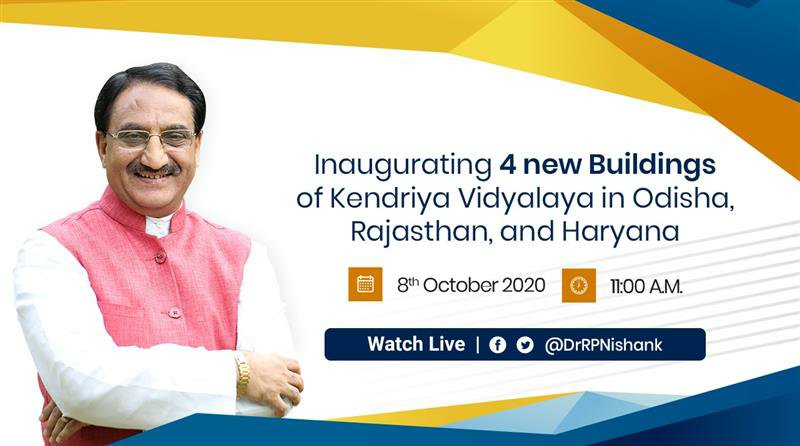 Constructed at a total cost of about Rs. 68.60 Crores, these four KVs have been running in temporary buildings till now. About 4000 Students will be benefitted with these newly developed campuses in the states of Odisha, Haryana and Rajasthan.
All the four new buildings of KVs have been constructed as per 'Green Building' norms and facilitated with Rain Water Harvesting System to ensure maximum water conservation. Buildings are constructed barrier free for the easy access to Divyang people. Ample space for Sports and Physical Activities has been allotted for encouraging students towards fitness.
During the virtual inauguration ceremony, Union Education Minister will also address the local gatherings and dignitaries through Video Conferencing.
Sources https://pib.gov.in/PressReleasePage.aspx?PRID=1662366
---
---
if you have any information regarding Job, Study Material or any other information related to career. you can Post your article on our website. Click here to
Register
& Share your contents.
For Advertisment or any query email us at
educratsweb@gmail.com
Submit Guest Post
Guest Post
Submit Job Information
Submit Contents
Category
Contents
Jobs
Link
Photo
Video
Business Directory
Our presence in social media
Twitter
Facebook
Telegram
Whatsapp Grroup
vk.com
Flipboard
Contact us
Contact us
Explore more
Web Archive
Free Online Practice Set
Our Blog
Search Pincode
Search Bank IFSC Code
Best Deal
Greetings
Recent Jobs
RSS
Advertise with us
Question
follow.it
Sitemap
Tag
Tag
Search
We would love to hear your thoughts, concerns or problems with anything so we can improve our website educratsweb.com !
Email us at
educratsweb@gmail.com
and submit your valuable feedback.
Save this page as PDF