Tag :
#
COAL
,
"The website will help in disseminating and promoting the knowledge and research work in the coal sector", said Shri Anil Jain, Secretary, Ministry of Coal. Launching the website to promote R&D activities in coal sector today, Shri Jain complemented the efforts of CMPDI in developing the website and suggested to put the web links of the efforts made by various esteemed organizations for R&D in coal sector on the website.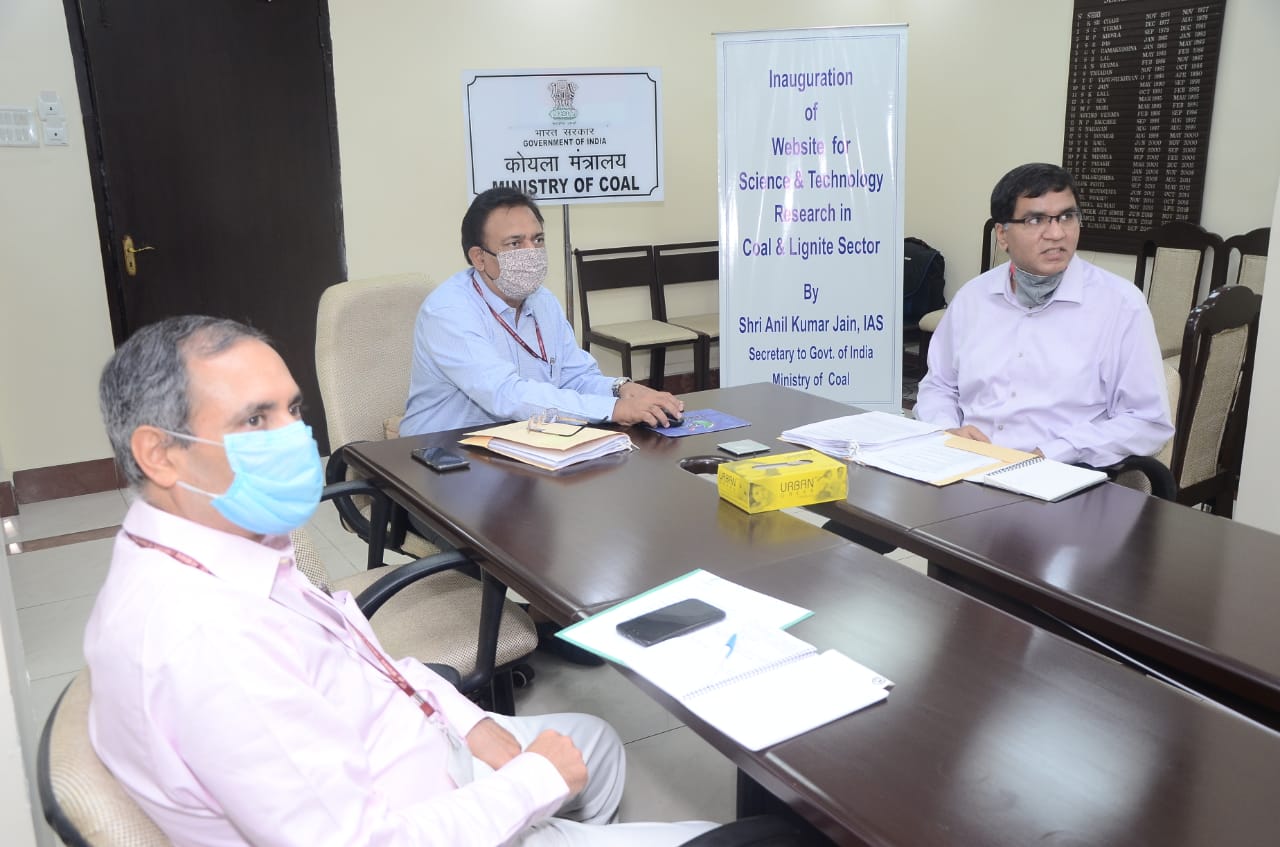 Ministry of Coal has launched the website to promote Research & Development (R&D) activities of the ministry and attract research institutes for R&D endeavors in coal sector. Shri Anil Jain launched the website (https://scienceandtech.cmpdi.co.in/) during the 56th meeting of Standing Scientific Research Committee of the Ministry. Coal India R&D arm, Central Mines Planning & Design Institute Limited (CMPDI) has designed and developed this website.
The website broadly displays the guidelines for implementing coal research projects with different forms so that anybody can submit proposals in requisite manner. It also has lists and outcomes of completed projects and ongoing research projects to have a transparency and avoid repetitive nature of projects. It showcases photos, videos and news clippings related to the coal and lignite sector and different publications are also available on the website. The website contains identified thrust areas for future coal research keeping in view the future needs of the nation.
MoC has been promoting R&D activities in Coal & Lignite sectors through its Coal Science & Technology (S&T) Plan for improvement in production, productivity, safety, coal beneficiation & utilization, protection of environment & ecology, clean coal technology & allied fields etc. MoC also provides funds to carry out research work on these subjects.
Research projects are presently being implemented by national research and academic institutions like IITs, NITs, IISc, NRSC, CSIR laboratories, other reputed universities etc. with active participation of coal and lignite producing companies. New thrust areas for research projects have been identified by a high-level technical committee constituted by MoC. These have been displayed on CMPDI website based on which need based research proposals may be submitted throughout the year.
Sources https://pib.gov.in/PressReleseDetail.aspx?PRID=1663177
---
---
if you have any information regarding Job, Study Material or any other information related to career. you can Post your article on our website. Click here to
Register
& Share your contents.
For Advertisment or any query email us at
educratsweb@gmail.com
RELATED POST
1. Ministry of Electronics & IT enables map services in "UMANG App"; Signs MoU with MapmyIndia
Friday July 16 2021 : Ministry of Electronics & Information Technology (MeitY) has taken various initiatives in the recent past to ease the lives of citizens by facilitating online delivery of Government services. To further enhance the initiatives of Digital India Programme, and keeping in view the theme of 'Aatmanirbhar Bharat', MeitY has enabled map services in "UMANG App '' through an MOU with MapmyIndia. As a result of integration of UMANG with MapmyIndia Maps, citizens will be able to find government facilities nearest to their location, such as mandis, blood banks and much more, at the click of a button. They will also be able to see these on the most detailed and interactive street and village level maps of India, built by MapmyIndia. Citizens will also be able to view the driving distance, get directions and turn by turn voice and visual guidance to locations, including traffic and road safety alerts during navigation, through the linkage between UMANG App and MapmyIndia". UMANG app has already started to provide map functionality through MapmyIndia in the following services: Mera Ration - Through UMANG, users can identify and navigate to the 'Nearest Fair Price Shops' as shops are visible in the form of pointers on MapmyIndia integrated map. eNAM - Through UMANG, 'Mandi Near Me' service will help users to identify and navigate to the nearby mandis pointed on the map. Damini - 'Damini Lightning Alerts' service is to provide lightning alerts to users by giving a visual ofnearby areaswhere lightning has struck in the last few minutes. This alert mechanism provides the possibility of lightning strikes on map view. To further increase usefulness to citizens, the map functionality will be shortly enabled in many more services such as: ESIC - Users can view ESIC centers such as hospitals/dispensaries on map view and navigate to them. Indian Oil - Service is to locate nearby retail and distributors of Gas stations as well as fuel filling stations. NHAI: Users can view the toll plazas and toll rates information while travelling. National Crime Records Bureau (NCRB) provides information corresponding to nearby police stations on the map. Pradhan Mantri Gram Sadak Yojana (Meri Sadak) will help users to raise complaints of damaged roads (under PMGSY) by selecting the road on MapmyIndia platform.
2. Aakash Educational Services Limited Launches Free App for NEET aspirants
Friday June 19 2020 : In continuation with its philosophy of putting "Students First" and being a pioneer in launching innovative products, Aakash Educational Services Ltd. (AESL), the national leader in test preparation services, has launched a Free App for NEET aspirants. Named, the 'NEET Challenger App', it enables candidates to strengthen their preparation for the upcoming NEET examination by making them thoroughly understand the insights of questions asked in the last 10 years. The NEET Challenger app is free for all aspirants across India and not just for those who study at Aakash Institute. It can be downloaded from Google Play Store. The link for downloading the app is: https://play.google.com/store/apps/details?id=aakash.neet.past_year_papers To register, a student has to select the grade to which he/she belongs. Once signed-up, one can chose from the list of subjects. After selecting a particular subject, students can choose a particular chapter, where one is able to access the previous years' questions of NEET / AIPMT, which have been asked in the last 10 years. Features of 'NEET Challenger' app: – Chapter wise Past 10 Years questions of NEET / AIPMT – Underlying concepts of each question – Page reference of NCERT (If question belongs from the domain of NCERT) – Answer and detailed explanation of each question – Other possible cases – Expected questions for upcoming NEET exam – Attempt and Accuracy analysis Commenting on the launch of the app, Mr Aakash Chaudhry, Director and CEO of Aakash Educational Services Limited (AESL), said: "The app is likely to benefit aspirants who are not being able to go for their regular classes due to the nationwide lockdown. With the NEET Challenger app, students can get quality guidance at the convenience of their home. The app will make it easy for students and teachers to thoroughly understand the NEET questions and eventually enhance their skill / capability of cracking the concepts important for NEET along with giving them access to similar questions on each question asked in NEET / AIPMT examination. With the launch of this app, we are committed to hand-hold all NEET aspirants in their preparation for the tests and extend the benefits of our cutting-edge digital services". NEET Challenger Your search for the best NEET preparation app for NEET ends here! The NEET Challenger app by Aakash gives you easy access to past year NE
3. EOL - Ease of Living Survey is a Ministry Of Rural Development initiative for assessment of availability of basic facilities in rural households using this mobile App.
Tuesday April 28 2020 : Ease of Living Survey is a Ministry Of Rural Development initiative for assessment of availability of basic facilities in rural households using this mobile App. Ministry of Rural Development is conducting a nationwide survey on delivery of basic services under the campaign on Constitution and Fundamental Duties & National Event from 26th Nov. 2019 to 14th April 2020 under which an assessment of deprived households captured under SECC 2011 data would be done regarding their ease of living on 16 household parameters on which Government flagship programmes have focused such as PMAY-G, UJJWALA etc.. This will capture the change in deprivation status of the household at local bodies level. The survey (Ease of Living) shall be conducted in the Rural India only and all the automatically included and deprived households of SECC 2011 data will be covered under this assessment. The Survey shall be conducted using the android mobile based EOL application where enumerator will do door-to-door canvassing for all such households and collect information on required questions/parameters which will be directly captured in digital form. The base data (automatically included and deprived households of SECC 2011) will be available on the enumerator device to search and find household. This App is not for use of General Public but only for the officials of the MoRD or the functionaries appointed by MoRD for field data collection. Download this App from Google Play Store