Ministry of Tourism, Government of India organised the domestic tourism road show in Goa today through its IndisTourism office in Goa . This event was organised in collaboration with Goa Tourism and Travel and Tourism Association of Goa (TTAG).
This B2B event and second in series of domestic tourism Road Shows in the Western and Central Region that the Ministry of Tourism has planned to conduct since the Covid–19 outbreak was inaugurated byMs. Rupinder Brar , Additional Director General, Ministry of Tourism .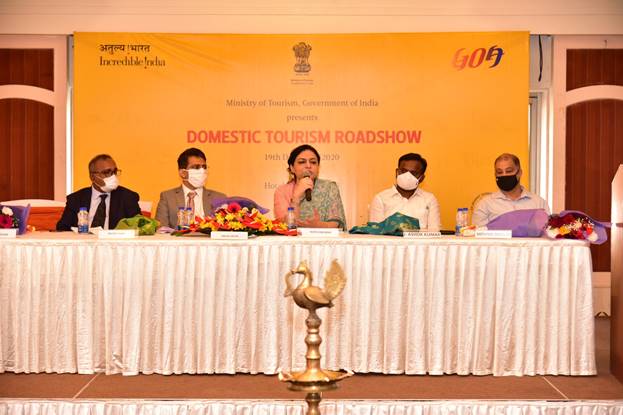 This roadshow featured fruitful engagement between tour operators from Maharashtra and Goa. This event was one of the series of roadshows being organized in the Ministry of Tourism's Mumbai Office ( Western & Central Region) . Maharashtra Tour Operators delegation consisted of 15 tour operators who drove into Goa to experience the Road travel which is now gaining popularity as travel is unlocking across the country. 30 members of Travel and Tourism Association of Goa (TTAG) participated in the roadshow.
Delivering keynote address, Additional Director General Rupinder Brar spoke about how Domestic tourism, when developed in a meaningful, sustainable and complementary way to international tourism, offers India an exceptional platform for year-round tourism. Se said " This would mean a relentless determination to drive up quality, whether accommodation, hospitality or customer service." She also spoke about the several initiatives being taken by Ministry of Tourism in rebooting the tourism sector and the Dekho Apna Desh Campaign and the famed Dekho Apna Desh Webinar Series.
Shri J. Ashok Kumar, Secretary (Tourism), Govt. of Goa informed about the release of new Tourism policy of Goa in November, 2020 which aims on shifting from Coastal to Hinterland Tourism in the State. He also informed about the State having a dedicated agency for Beach Clean – up and forthcoming initiative of having a dedicated Police Force for all beaches.
Goa Tourism Development Corporation made a presentation on the limitless options for holiday makers in Goa and especially the new tourism products being developed by the State.
Mr. Nilesh Shah, the President of the Travel and Tourism Association of Goa (TTAG) the apex body representing the Hotel & Travel Trade in Goa welcomed the participants . TTAG consists of Hoteliers, Travel Agents, Tour Operators, Airlines and other allied bodies.
Excellent support was extended by Goa Tourism, Institute of Hotel Management , Goa , TTAG in organizing the roadshow.
---
---
if you have any information regarding Job, Study Material or any other information related to career. you can Post your article on our website. Click here to
Register
& Share your contents.
For Advertisment or any query email us at
educratsweb@gmail.com
Submit Guest Post
Guest Post
Submit Job Information
Submit Contents
Category
Contents
Jobs
Link
Photo
Video
Business Directory
Our presence in social media
Twitter
Facebook
Telegram
Whatsapp Grroup
vk.com
Flipboard
Contact us
Contact us
Explore more
Web Archive
Free Online Practice Set
Our Blog
Search Pincode
Search Bank IFSC Code
Best Deal
Greetings
Recent Jobs
RSS
Advertise with us
Question
follow.it
Sitemap
Tag
Tag
Search
We would love to hear your thoughts, concerns or problems with anything so we can improve our website educratsweb.com !
Email us at
educratsweb@gmail.com
and submit your valuable feedback.
Save this page as PDF