Patanjali Divya Swasari Coronil Kit helps in boosting immunity to help you get the protection you need against diseases and infections caused by bacteria and viruses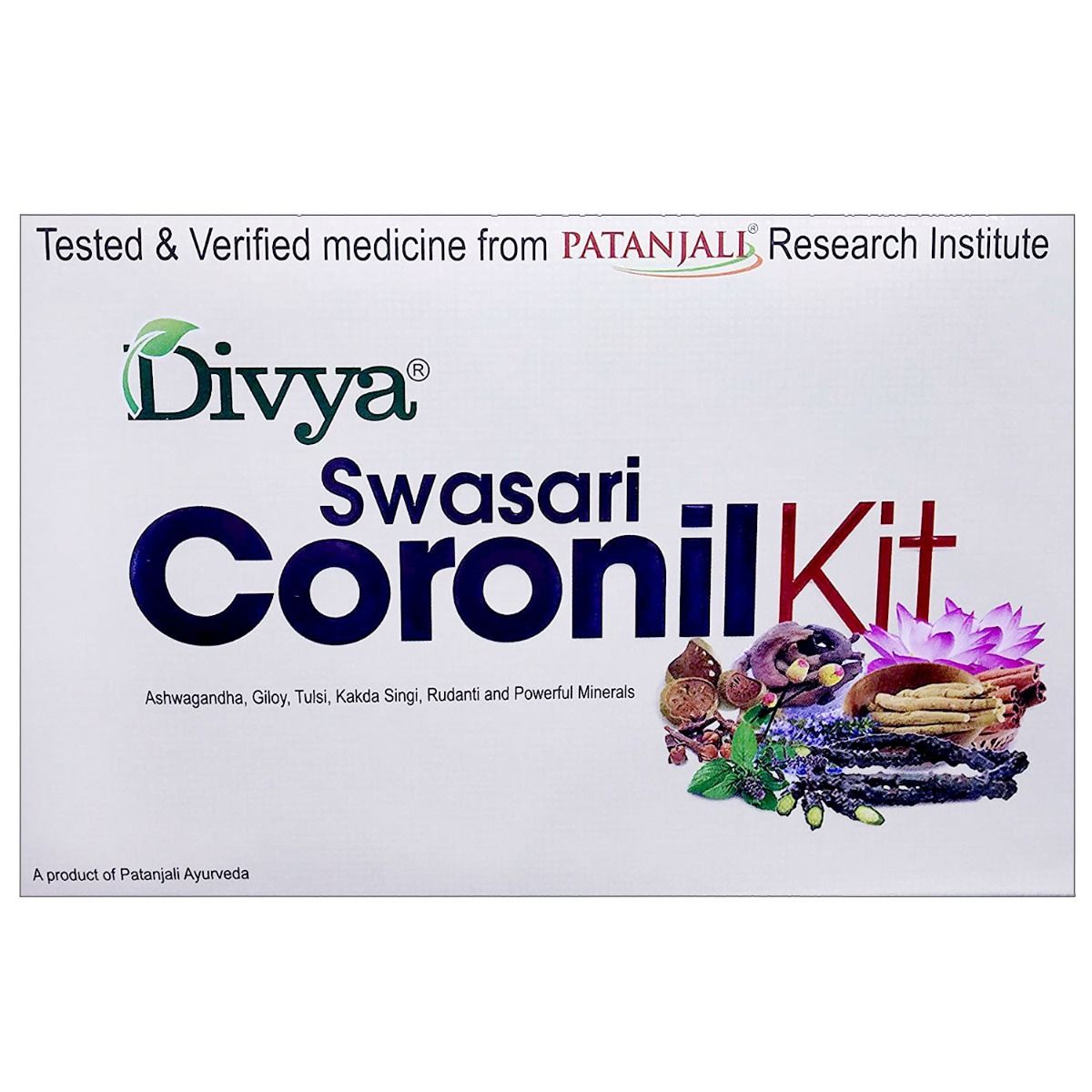 Directions for Use
2-2 tablets with lukewarm water, half an hour before the meal
Put 4-4 drops in both nostrils once a day, 1 hour before breakfast
2-2 tablets with lukewarm water, half an hour before the meal
Note: Given information about drug intake and quantity is suitable for adults between 15 to 80 years of age and half the amount, for children between 6 to 14 years
Key Benefits
Contains the goodness of Ashwagandha, Giloy, Tulsi, Kakda Singi, Rudanti and Powerful Minerals
Tested and verified medicines from PATANJALI Research Institute
Swasari Vati: Helpful in respiratory tract problems
Anu Taila: Helpful in sinus and respiratory problems
Coronil: Protects from diseases and viruses
Product Contents
Swasari Vati (Unit-1, Contains - 80 tablets)
Anu Taila (Unit-1, Contains - 20 ml)
Coronil (Unit-1, Contains - 80 tablets)
Safety Information
Tighten the cap after use
Store in a cool and dry place, away from direct sunlight
Keep out of reach of children
Read the label carefully before using
Key Ingredients
Coronil Tablet : Giloy, Ashwagandha, Tulsi. Swasari Vati : Mulethi, Kakdasinghi, Rudanti, Sounth, Marich, Choti Pipal, Lavang, Akarkara, Abhrak Bhasma, Mukta Shukti Bhasma. Anu Taila : Jivanti, Jala, Devdaru, Nagarmotha, Dalchini, Sevya (Useera), Anantmool (Sareeva), Swet Chandan, Daruhaldi, Mulethi.
Buy this product visit https://www.apollo247.com/medicine/patanjali-divya-swasari-coronil-kit
We would love to hear your thoughts, concerns or problems with anything so we can improve our website educratsweb.com ! email us at
educratsweb@gmail.com
and submit your valuable feedback.
Save this page as PDF
|
Recommend to your Friends
JOIN OUR TELEGRAM DISCUSSION GROUP
|
SUBSCRIBE TO OUR NEWSLETTER