Tag :
#
FOR
,
CHALLENGE
,
INNOVATION
,
LAUNCHES
,
CREATING
,
INDIAN
,
APP
,
LEARNING
,
LANGUAGE
,
MYGOV
,
APP
,
CHALLENGE
,
INNOVATION
,
LAUNCHES
,
FOR
,
CREATING
,
LEARNING
,
LANGUAGE
,
INDIAN
,
MYGOV
,
MyGov, the citizen engagement platform of the Government of India, in partnership with Department of Higher Education has launched an Innovation Challenge for creating an Indian Language Learning App. This Innovation Challenge has been launched to take forward Prime Minister Narendra Modi's vision of celebrating India's cultural diversity through greater interaction among its constituent parts.
MyGov has launched the Innovation Challenge to create an app that will enable individuals to learn simple sentences of any Indian language and acquire working knowledge of a language. The objective of this challenge is to create an app that will promote regional language literacy, thereby creating greater cultural understanding within the country. The key parameters that will be looked into will include ease of use, simplicity, Graphical User Interface, gamification features, UI, UX and superior content, that makes it easy and fun to learn an Indian language.
The Innovation Challenge is open to Indian individuals, startups and companies. MyGov envisions the app to be multi-modular, with the capacity to teach through the written word, voice and video/visuals. App developers can propose multiple interfaces for engagement of learners. The innovation challenge cab be accessed at https://innovateindia.mygov.in/indian-language-app-challenge/. All terms and conditions for the challenge are also stated in that page and participants are encouraged to visit the site.
The Innovation Challenge closes on 27 May 2021. Upon evaluation of submission of prototypes, the top 10 teams will be invited to make presentations and top 3 will be selected by a jury. The top 3 will receive funding of INR 20, 10 and 5 lakhs to make the apps better. The solutions would be evaluated based on broad parameters such as Innovation, Scalability, Usability, Interoperability, Ease of deployment/roll-out and Campaign.
About the challenge
The idea of a sustained and structured cultural connect between citizens of different regions of the country was mooted by Hon'ble Prime Minister Shri Narendra Modi during the Rashtriya Ekta Divas held on 31st October 2015, to commemorate the birth anniversary of Sardar Vallabhbhai Patel. Hon'ble Prime Minister propounded that cultural diversity is a joy that ought to be celebrated through mutual interaction & reciprocity between people of different States and UTs in the true spirit of Ek Bharat Shresth Bharat. This inter-connectedness can be improved by reducing the language barrier that exists in our country.
Learning another language not only helps one to settle in another state but also allows one to explore the vast and rich culture of his own country.
This Innovation challenge designed to build an App to learn basic sentences in various languages is a step in reducing the language barrier which exists due to the huge diversity in our country.
Problem statement and the expected outcome
Problem Statement: Creation of a mobile application, which could serve as a Language Learning App for Indian Languages for Indian Citizens.
This application is required to be equipped with different modules of language learning and user management to enable language learning in Indian languages. The application should have features to enable different ways of learning using textual, audio, and visual data with ease. The application should also offer an automated way to evaluate and rank learners in different languages. Top learners in a language may be awarded badges that will be based on achieving certain milestones.
It should have a user-friendly Graphical User Interface (GUI) to attract and engage the language learner. The application should also have additional features or sections which should enable gamification of learning.
The participants are given full freedom to propose and design the features to reflect the understanding of the problem.
Sample Modules
There are possibilities of the creation of multiple interfaces for engagement of the learners which may be proposed by the prospective app developers in their proposals. However, for guidance, some sample modules are given below. It is to be noted that these are indicative and applicants need not limit their ideas and be as creative and innovative as possible.
Module 1
An audio clip would be played and the learner or user has to listen to the same. Based on the clip the user is asked to select the correct transcript from multiple options provided. If the answer is correct, a score is to be added, else the user would be assigned a negative mark or a 'zero' and the correct option would be highlighted on the screen. This can become a way to test and teach the correct script of the language.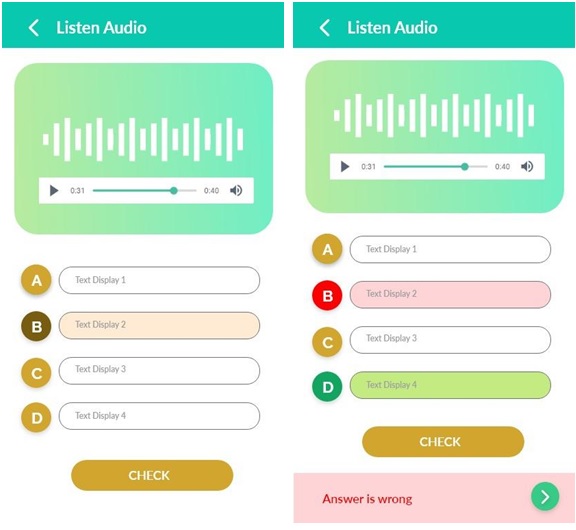 Module 2
A text/Sentence would be displayed on the screen. The user has to read and record himself using the microphone button. The recorded audio could be processed through the (Automatic Speech Recognition) ASR/DTW (Dynamic Time Warping) to validate. If the playback is found to be correct, a score is to be added, else the user would be assigned a negative mark or a 'zero'. The participants are free to use any ASR/DTW system for validation. They can also use ASR systems in Indian Languages provided by IIT Madras, EkStep, or others available through a third party.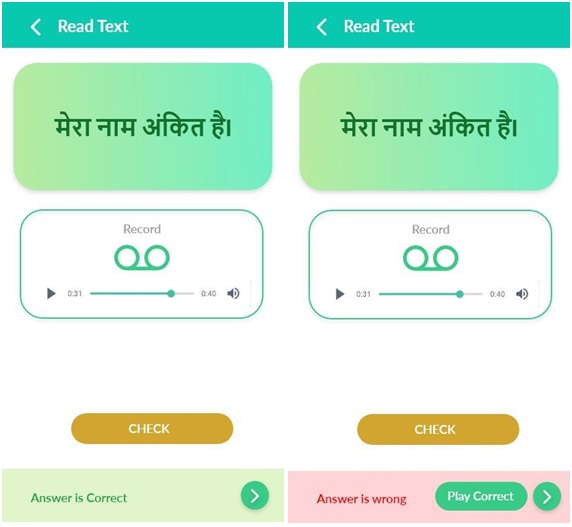 Eligibility Criteria
The participants should be Indian Citizens or companies/Start-up's with a majority stake of Indian Citizens.
The contest is open to the following entities: –

Start-ups,
Indian Legal Entities

Registration proof shall be submitted at the time of application
It should have a minimum of 51% shareholding of Indian citizens and should not be barred or blacklisted anywhere for government work. Blacklisted means that participants shall not have been blacklisted or debarred from tendering for corrupt or fraudulent practices or non-delivery, non-performance by Govt. of India and/or any State Government and/or any Central/State PSU at the time of bid submission date.

Individual / Team

If Applicant (Individuals) is not yet registered as Start-up, they are still allowed to submit ideas, but are required to be registered as a private limited company (as defined in the Companies Act, 2013) or registered as a partnership firm (registered under section 59 of the Partnership Act, 1932) or a limited liability partnership (under the Limited Liability Partnership Act, 2008) in India (as per definition available in the latest notification of DIPP at http://startupindia.gov.in) on or before 30 days from the date of declaration of stage 1 result otherwise applicant will be disqualified.
An entity shall be considered a 'start-up' as per definition of startup notified by Department for Promotion of Industry and Internal Trade (DPIIT) vide G.S.R. order no. 127(E) dated 19th February 2019:

Up to a period of ten years from the date of incorporation/ registration, if it is incorporated as a private limited company (as defined in the Companies Act, 2013) or registered as a partnership firm (registered under section 59 of the Partnership Act, 1932) or a limited liability partnership (under the Limited Liability Partnership Act, 2008) in India.
Turnover of the entity for any of the financial years since incorporation/ registration has not exceeded one hundred crore rupees.
The entity is working towards innovation, development, or improvement of products or processes or services, or if it is a scalable business model with a high potential of employment generation or wealth creation.

Provided that an entity formed by splitting up or reconstruction of an existing business shall not be considered a 'Startup'.
Innovative Security Products being developed should not have violated/ breached/ copied any product already launched and/or copyrighted or patented.

For the product to be developed as part of the Challenge, if any IPR/Patent is being used, the contesting entity must possess the legitimate rights to use the IPR/Patents.
The product to be developed for the Challenge should be designed and developed in India.
Stages
The Innovation Challenge is open for participation in teams having experts from all domains of building Learning applications for Indian languages has the following stages:
Stage 1: Prototype Stage
The participants should develop a prototype of the solution within a 30 days' time frame and provide a link/apk file to their working prototype for evaluation. The top 10 teams would be selected for the presentation in front of an esteemed Jury, constituted by MyGov to select the maximum of the top three teams.
The Top winning team will receive INR 20 Lakh and the second team will receive INR 10 lakh and the third team will receive INR 5 Lakh as funding to further develop and add content to the selected application.
The solutions would be evaluated based on broad parameters such as Innovation, Scalability, Usability, Interoperability, Ease of deployment/roll-out, Campaign.
Final Stage: Mentorship and Production Stage
In return for this funding, the winning team(s) will make a production-ready product in the next 30 days. They will allow the government to use this application for promoting language learning across schools, colleges, and in general.
The following important activities need to be taken at different stages.
Evaluation Parameters
The ideas/ prototype/ final product will be judged on the following parameters with variable weightage:
| | | |
| --- | --- | --- |
| Sl. No | Parameter | Description |
| 1 | Approach Towards Problem Solving | Product Idea, Degree of Innovation, Simplicity of Final Solution, Uniqueness & scalability of Idea, Novelty of Approach, understanding of data collection and features. |
| 2 | Business Use Case | Business Case, USP, Monetization plan and Vision |
| 3 | Solution Technical Feasibility | Product features, Multilingual, Interoperability, Scalability, Usability, Milestone configuration, enhancement & expansion, Underlying technology components & stack, and futuristic orientation |
| 4 | Gamification or Organic quotient | The gamification of learning modules and strategy of segregation of different levels of learning. |
Important Dates
In the table given below, T will be the same as the launch date and D is the date of the "Stage 1: Ideation Stage" result declaration. It will be announced on the MyGov platform (https://www.mygov.in/). Details will also be available on NPLT (https://www.nplt.in), MSH (https://meitystartuphub.in/), and MeitY (meity.gov.in). Submission will close at 11:59 PM IST on the last day of submission.
| | | |
| --- | --- | --- |
| Sl. No | Activities | Date |
| 1 | Launch of Innovation Challenge | 28th April 2021 |
| 2 | Last Date for Prototype Submission | 27th May 2021 |
| 3 | Presentation by Top 10 Teams | 28th May 2021 |
| 4 | Declaration of results of Prototype Stage | 4th June 2021 |
| 5 | Production-ready product delivery | 9th July 2021 |
Terms & Conditions
During the Challenge, the Team leader shall be considered as the Single Point of Contact (SPOC) for all engagements & communication by the Challenge organizing committee. Furthermore, the Team leader cannot be changed during the course of the Challenge.
Indian Citizens who are students, start-ups, and others are eligible to apply for the challenge. Indian students can form teams comprising other students from any college in India.
Participants, who have been funded by Technology Development for Indian Languages (TDIL), MeitY for the development of products in the same or related domain in the past or present, are not eligible to participate directly or indirectly for the challenge round.
For any update regarding the Challenge, participants will have to refer to the web portal for Challenge.
All communications between the Challenge organizing committee and the Team leader will be done through the registered e-mail only. This will be the only form of communication and any other forms of communication will not be entertained.
During various stages of the Challenge, all prizes or funding will be awarded and paid, as per the prevailing Government guidelines, in INR in the account of the Start-up to be registered by the qualifying Teams (if not already registered) as provided by the Team Leader. The Team Leader is obliged to make payment in the applicable amount to procure off-the-shelf components for the development of Minimum Viable Product (MVP)/ Proof-of-Concept (POC)/ Prototype/ Product to each member of the Team and for related purposes. The Organizers will not in any way be responsible for expenditure or division of the prizes among the members of the Team.
Funding will be awarded by MyGov. Taxes on the funding will be applicable as per the rules on the day of disbursement. A separate agreement shall be entered into with the start-up before the disbursement of the amount clearly indicating the milestones and timelines.
Funds and Prizes Taxes are the sole responsibility of the Teams receiving funds. Prizes may be subject to tax reporting and other purposes. Team-members agree to supply Organizers with any necessary information to affect the same and to fully cooperate in fulfilling all applicable legal requirements.
The funds for the POC/MVP/Prototype/Product shall be disbursed only through the start-up company registered for the development of the product idea proposed for the challenge or through their existing start-up company, which is authenticated by their Board of Directors (BoD) for the receipt of the fund and the utilization of the same for the agreed purpose. The start-up company which receives the funds shall be responsible for the proper utilization of the disbursed funds, as per the terms and conditions.
Teams shall maintain detailed documentation of their idea and solution at all stages of the Challenge for reference and record purpose. The Challenge organizing committee reserves the right to review these documents at any time during the program.
Any changes in Approach or addition of features from the initial vision document and deliveries of the shortlisted team for prototyping will undergo deliberation by the Innovation Challenge Organizing Team if it's novel or it's not already committed in other teams' prototype.
The Juryhas the right to call any of the shortlisted participating Team at any stage, to make a presentation of the submitted details. The details in this regard shall be communicated by the Challenge organizing committee accordingly. Any travel or miscellaneous expenses incurred by the participating Team as part of the Challenge will not be compensated by the Challenge organizing committee.
Removal/ voluntary withdrawal of members from any Team is not encouraged and only be allowed subject to the approval of the Challenge Organising Committee. No other form of Team modification will be entertained.
By making a submission in the Challenge, all Teams warrant and represent that to the best of their knowledge, their submission is original and does not violate or misappropriate any 3rd party trade secret, "know-how," copyright, patent, or other intellectual property rights. Entrants also warrant and represent that there are no obligations of any nature, legal or otherwise, which would prohibit, restrict, or interfere with their participation in the Challenge or submission of their proposals/ prototype at any stage of the Challenge, and agree to obtain any necessary clearances, authorizations and/or approvals prior to participation. The entrant shall indemnify the challenge organizing committee from any dispute arising out of alleged IP infringement, misappropriation of trade secret, know how, copyright etc with any 3rd party.
Each Team and each Entrant hereby grant Organizers a non-exclusive, worldwide, perpetual, and royalty-free right and license to publish their project reports, designs and other information submitted, or any portion or modification thereof, technical or marketing publications, advertisements, or promotional activities, including without limitation Organizers or 3rd party technical articles, datasheets, application notes, reference designs or internet publications. The Organizers reserve the right to publish the designs without attribution. Except for these limited rights to publish, the Organizers do not obtain any other ownership, rights or licenses in any of the Team's intellectual property or confidential information. IPR of the product to be developed as part of Challenge will be owned by the Entrant.
DATA PROTECTION, CONSENT TO THE USE OF PERSONAL DATA: Personal data (as hereinafter defined) provided by the Entrants during the Challenge will be used by Organizers as well as by service providers (for e.g. website hosting services) engaged by Organizers as data processors, for the purpose of the Challenge. The Entrants and all other participating parties, agree that any personal data, which shall mean any data identifying, without limitation, its owner, by name, correspondence address, email address and contact number ("Personal Data") which is disclosed by any individual or obtained by the Organizers or its Contractual Partners, inclusive of their designated vendors ("Workers and Vendors") prior to or during the course of performance of this Challenge, shall be processed, maintained, disclosed or destroyed in accordance with the relevant terms of consent set out in the Challenge Terms and Conditions. For the avoidance of doubt, every Entrant and individual who submits his or her data for the purpose of participating in this Challenge shall be deemed to have given express consent for the processing, use, retention or disclosure of such Personal Data for the purposes set out above.
By entering the Challenge, each Entrant agrees to release Organizers and its affiliates from and against any losses, damages, rights, claims and actions of any kind arising from (i) an exclusion or disqualification of such Entrant pursuant to these Rules; (ii) late, lost, misdirected, or unsuccessful efforts to notify winners of any prize; (iii) forfeiture of a prize and the selection of an alternate winner; (iv) late, lost, delayed, damaged, misdirected, incomplete, illegible or unintelligible entries; (v) telephone, electronic, hardware or software program, network, Internet, or computer malfunctions, failures or difficulties of any kind; (vi) failed, incomplete, garbled or delayed computer transmissions; (vii) any condition caused by events beyond Organizer's control that may cause the Challenge to be disrupted or corrupted; and (viii) any injuries, losses or damages of any kind relating to participation in this Challenge.
The Organizers reserves the right to cancel, terminate, modify or (temporarily) suspend this Challenge where required by law or if there is an impediment to the performance of this contract due to a breach by any of the Organizer's contractual partners, or a delay in funding, or a force majeure event, or it becomes technically corrupted or if for any reason the Internet portion of the Challenge is not capable of running as planned, including infections by computer virus, bugs, tampering, unauthorized intervention, fraud, technical failures or any other causes beyond Organizer's control, which corrupt or affect the administration, security, fairness, integrity or proper conduct of this Challenge. The organizers further reserves the right, in its sole discretion, to disqualify anyone found to have manipulated the Challenge or its operation. In addition, the organizers at its sole discretion may disqualify any Entrant at any stage of the Challenge without being required to specify any reasons in that regard.
If there is any conflict in the provisions of the conditions and clauses of the challenge stipulated in any of the platforms pertaining to the challenge, published by any of the partnering agencies, the provisions of the TOC as mentioned here or the addendum and/or corrigendum of the TOC shall govern and shall be final and binding to all.
Any decision by the organising committee, on any aspect of the challenge at any point of time during the course of the challenge is final and binding to all the participants, without any reservations and shall not be challenged in any court of law.
The solution/Product so developed would be deployed in the chosen Cloud Environment and used for the Union/State/UT government entities.
In an exceptional scenario, none of the team suggesting the solution which looks promising than NLTM reserves the right not to declare or select any of the prototypes for final deployment, and the team will not get any partnership with NLTM.
The undertaking of identity, original work, and authenticity of documents will be taken from winners.
---
---
if you have any information regarding Job, Study Material or any other information related to career. you can Post your article on our website. Click here to
Register
& Share your contents.
For Advertisment or any query email us at
educratsweb@gmail.com
RELATED POST
1. Scaler invites applications for "CodeX", a national-level coding challenge
Tuesday April 6 2021 : Scaler invites applications for "CodeX", a national-level coding challenge Top performers to get cash, merchandise and scholarships worth over 70 Lakhs Opportunity for women coders to participate in exclusive fireside chats with women technocrats Mumbai, 6th April 2021:Scaler, a leading upskilling platform for students and working professionals, announced the launch of the first edition of CodeX, a national-level coding challenge for technology professionals and aspirants. The challenge aims to provide a platform for participants to learn and improve their coding skills while also standing a chance to win cash prizes, scholarships and counselling from top mentors from the industry. Additionally, top performers' profiles shall be shared with Scaler's industry partners for recruitment. CodeX is a 2.5-hour long coding challenge scheduled to start from9th April 2021. It is open to all coding enthusiasts and has two modes – CodeX Competitive Mode and CodeX Learning Mode. The competitive mode allows participants to pit themselves against the best in the country and compete for a wide variety of prizes & opportunities. In contrast, the learning mode will enable coders who want to hone their skills without the time pressure of competition to attempt the test and focus on learning rather than competing for the prizes. All participants will be provided with personalised performance reports and can avail counselling sessions to help think through accelerating their careers. Additionally, top performers also stand a chance to win cash rewards and scholarships worth over 70 Lakhs, along with direct access to the Scaler Academy program. To enhance female participation in the tech workforce, Scaler has also created an exclusive opportunity for women coders to participate in fireside chats with inspiring women technocrats and interact with them on managing expectations, breaking the glass ceiling and building a career in tech. Top performers will get the opportunity to be mentored by senior women leaders. They will also receive sponsored scholarships from Scaler's industry partners along with a chance to be mentored by senior technical staff. Commenting on the launch of the coding challenge, Abhimanyu Saxena, Co-Founder, Scaler & InterviewBit, said, "At Scaler, we strongly believe in rewarding excellence and facilitating learning. A key driver of learning & excellence is a constant practice to better yourself, and what better way than CodeX to give coders across the country a platform to find out where they stand and what their improvement areas are. We hope that we can nurture the community of coders across the country and provide them with the support they need to scale up thei
2. STPI launches 2nd Cohort Challenge of IMAGE- A STPI CoE in Gaming, VFX, CV & AI for Start-ups
Saturday May 22 2021 : STPI launches 2nd Cohort Challenge of IMAGE- A STPI CoE in Gaming, VFX, CV & AI for Start-ups Objectives: a)To nurture and develop the ecosystem for innovation in the Gaming, VFX, Computer Vision & AI Industry. b)To seed and support start-ups in the Gaming, VFX, Computer Vision & AI Industry under strategic guidance by technology leaders and domain experts. c)To create/provide access to the required infrastructure and R & D / lab facilities for start-ups for development and validation of solution from design to prototyping to democratize innovation in collaboration with Government, Industry, and academia. d)To provide business and technological mentorship & guidance in the domain, networking services linking up with funding sources and others. e)To provide support for the creation of IPs domestically and legal consultancy services. Location: Software Technology Parks of India, IMAGE incubation, 2nd Floor, 14 & 15, Software Units Layout, HITEC City, Madhapur, Hyderabad - 500081 Chief Mentor: Mr. Shashidhar Reddy, Vice President, and Centre Head, M/s Qualcomm India (P) Ltd. Partners: Government: MeitY, STPI, Govt of Telangana Academia: IIIT - Hyderabad Industry Association: Telangana VFX, Animation and Gaming Association (TVAGA), The Hyderabad Software Enterprises Association (HYSEA) The Indus Entrepreneurs (TiE), Hyderabad. Funding: Hyderabad Angeles and SucSEED Indovation Fund Facilities & Services: The services available for the beneficiaries shall include a)State-of-the-art plug and play incubation space of 10,000 Sq ft. b)Seed funding to selected start-ups from IMAGE CoE c)30 Lakh Seed Fund to eligible start-ups from SucSEED Indovation Fund d)Technology, Domain & Strategic Mentoring e)Demo day pitch training & funding opportunity with investors f)Plug & Play Infrastructure support g)Access to Mocap Studio & CVAI Lab h)IPR Related Support Services Target Beneficiaries: 140 start-ups over a period of 5 Years. STPI IMAGE is inviting applications for the 2nd Cohort Program of IMAGE COE from the Start-ups in Gaming, VFX, Computer Vision & AI domain. The last date to apply is 5th June 2021. More information on this can be obtained from http://image.stpi.in/
3. Grand Challenge for development of Smart water supply measurement and monitoring system ICT Grand Challenge 2020
Sunday September 20 2020 : Grand Challenge for development of Smart water supply measurement and monitoring system ICT Grand Challenge 2020 The Ministry of Electronics & Information Technology (MeitY) in partnership with National Jal Jeevan Mission (NJJM), Department of Drinking Water and Sanitation, Ministry of Jal Shakti announces to develop a 'Smart water supply measurement and monitoring system' via an ICT Grand Challenge. ABOUT THIS APPLICATION
4. MedTech – Start-up Open Challenge Program Contest
Friday September 4 2020 : MedTech – Start-up Open Challenge Program Contest Last Date Sep 18,2020 23:45 PM IST (GMT +5.30 Hrs) Login to Participate MedTech is being set up by a consortia comprising of Software Technology Parks of India (STPI), Ministry of Electronics and IT, SGPGI Lucknow, Department of IT and Electronics Government of UP, Association of Indian Medical Device Industry (AiMED), Andhra Pradesh MedTech Zone (AMTZ). The objectives of opening the same is to boost start-ups in the field of medical equipment/electronics & health informatics and to contribute to "Make-in-India" & "Digital India" programs of Govt. of India by reducing Health Care Equipment imports and recognize value of Health Care Equipment & Technology locally. Who can Apply: o The start-up should be incorporated as a Private Limited Company (as defined in the Companies Act, 2013/1956) or Registered Partnership Firm (Regd. under section 59 of the Partnership Act, 1932) or Limited Liability Partnership (under the Liability Partnership Act 2008) o The date of registration/incorporation should not be beyond 10 years. o If a company is not registered, an application may be made in the names of the promoters/founders. However, the promoters/founders must ensure that the company is registered within a period of 3 months from the date of selection for CoE. Key Domains/Focus Areas: The Start-ups are expected to solve the problems in the following: o MEDI ELECTRONICS o HEALTH INFORMATICS o HEALTH TECH o IOT Offerings: • Built Up space of 15,000 to 20,000 sq.ft. at SGPGI • Lab Facilities: o MediElectronics& Health Informatics Lab • Equipped with world class equipment's needed for Medical device • Medical Simulator manikins, Simulation Software • PCB Fabrication Lab, 3D Printer, 4axis CNC milling Machine etc. o IoT Lab (focusing Health care) • Equipped with all modern equipment's needed for IoT. • World-class simulation software and 3D Printers. • High-Speed Internet Access • 24 x 7 x 365 days of Operational workspace • Round the clock security • Dedicated team/Support round the clock • Financial Support through seed funding • Technical Support • Marketing Support • IPR/Patenting Facilitation • Legal, Accounting & other support Service Open Challenge Program: STPI MediTech is inviting applications from the Startups/ Entrepreneurs for Open challenge Program in domain of Medielctronics and health informatics. Open Challenge Program (OCP) is a platform where a startup gets an opportunity to solve problems through innov
5. CHUNAUTI - NextGen Startup Challenge Contest
Wednesday August 26 2020 : Last Date Sep 07,2020 23:45 PM IST (GMT +5.30 Hrs) Login to See the Details Next Generation Incubation Scheme (NGIS) is STPI's comprehensive incubation scheme which has a vision to drive the rise of India as a Software Product Nation so as to make India a global player in development, production and supply of Innovative, Efficient and Secure Software Products thus facilitating the growth across the entire spectrum of ICT sector as envisioned in the National Policy on Software Products (NPSP) – 2019. NextGen Startup Challenge Contest (CHUNAUTI - Challenge Hunt Under NGIS for Advanced Uninhibited Technology Intervention)is an online Challenge under NGIS to find the products &solutions to address the issues/challenges faced during and post pandemic situation. CHUNAUTI is looking to identify and support the solutions which can support Government,industries & public at large for their seamless operations and enabling them to face the varied difficulties& bottlenecks during and post pandemic situation. Who can apply: • The challenge invites the proposals/applications from Indian Start-ups who are working in domain related to software product development. • Start-ups registered with DPIIT under start-up India programme are encouraged to participate in this programme. • Individual Academicians, Researchers, Educators, Entrepreneurs, partnership firms, LLPsmay also participate, however, if they are selectedthen they will have to register as private limited company in a stipulated time (preferably within 3 months). Key Domains: 1. Edu-Tech, Agri-Tech & Fin-Tech Solutions for masses 2. Supply Chain, logistics & Transportation Management 3. Infrastructure & remote monitoring 4. Medical Healthcare, Diagnostic, Preventive & Psychological Care 5. Jobs & Skilling, Linguistic tools & technologies Offerings: • Ready to work Plug-n-Play incubation space along with high speed internet access within the constraint of lockdown & thereafter. • Mentoring support. • Networking opportunities/Industry connectand Go-to market supportfor exhibiting/showcasing products/solutions through various National/International events/workshops/exhibitions. • Full-fledged security & vulnerability testing of Software Products through the dedicated Software Product Security Testing (SPST) facility. • Access to VCs for funding support. • Advisory Services such as HR, Legal, Accounting, IPR/Patenting and other support services. • Facilities and services including mentoring, networking/industry connects, marketing support, etc. of the pan-India domain specific CoEs of STPI may be leveraged. • Mentor, experts, industry network of STPI and MSH.
6. SDG Cart Innovation Competition: Contest to reward responsible entrepreneurship
Monday March 22 2021 : SDG Cart Innovation Competition: Contest to reward responsible entrepreneurship SDG Cart, an e-commerce platform that aims to encourage responsible entrepreneurship, will be launching the first edition of SDG Innovation Competition. The competition aims to support entrepreneurial start-ups and scale-up stage businesses that develop innovative solutions, to make a positive social impact, in line with any one of the Sustainable Development Goals laid down by the United Nations. The competition is presented by SBI Mutual Fund and is a joint initiative of SDG Cart and International Institute of Corporate Social Responsibility (IICSR) supported by Ekjaa Foundation as an intellectual partner. Mr. Srinivas Jain, Executive Director & Chief of Strategy, SBI Mutual Fund commented "As the largest fund house in India, we are committed to responsible investment paradigm by supporting various national and international initiatives that aspire for long term sustainability. SDG Cart Innovation competition is an important initiative that we are very pleased to support" The platform will strengthen the fabric of responsible entrepreneurship by providing forward linkage to the products and services aligned to SDGs. The initiative is further strengthened to support Sustainable Tourism by This is it, Goa and Lawrence and Mayo as Gifting Partners for all the applicants. Mr. Deepak Arora, VP Public Affairs, Nayara Energy in a video message said, "The best time in history is to innovate now, Sustainable Innovation is most needed." Building on SDG Cart's vision to improve India's standing in adherence to Sustainable Development Goals, the competition strives to amplify and support the efforts of local entrepreneurs who are working to advance their communities and foster a more inclusive future. To achieve this stride, SDG Cart has announced a venerated jury panel, which will shoulder the responsibility of identifying innovative ventures. The panel comprises domain connoisseurs, who currently hold esteemed positions in the corporate landscape today, including (Executive Director & Chief of Strategy – SBI Mutual Fund) Mr. Ashwini Saxena (CEO, JSW Foundation), Mr. Anirban Ghosh (Chief Sustainability Officer, Mahindra Group), Mr. Tanmoy Chakraborty (Group Government Affairs Officer, Tata Sons),