PATNA: Around 32,000 vacant posts of teachers in the state's secondary and higher secondary schools will be filled-up soon. While reviewing the functioning of state's education department at 'Samvad' auditorium here, CM Nitish Kumar on Saturday asked the department's officials to start process for recruitment of teachers against the vacant posts from June itself.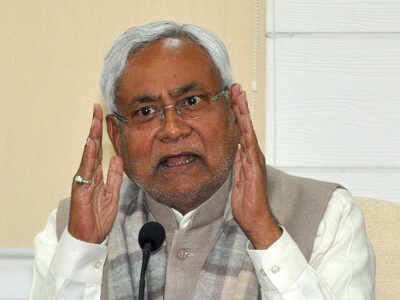 "Around 32,000 posts of teachers in 5,700 secondary and higher secondary schools across the state are vacant. The CM asked to begin the recruitment process immediately so that the Teacher Eligibility Test (TET) and the Secondary TET passed candidates whose validity period of seven years is on the threshold of expire, could participate in the recruitment process," an education department official told TOI.
In another important decision, the CM asked the official to implement 'Banka Unnayan' programme in all higher secondary schools across the state from July-August this year.
In the 'Banka Unnayan' programme, students of government-run schools are taught through online and offline method using smart TVs in the classrooms. The programme, initially began in five government schools of Banka district, has now been expanded to more than 70 schools in the district. The CM during his visit to Banka district had personally observed the method of teaching under the 'Banka Unnayan' project.
Nitish asked the education official to make arrangement for proper training of all district magistrates (DMs), deputy development commissioners (DDCs), district programme officers (DPOs) and other related education officers about the 'Banka Unnayan' programme, so that the innovative scheme could be implemented successfully in all higher secondary schools in all 38 districts.
The CM further asked the officials to start teaching of class-9 in at least one selected middle school in each gram-panchayat across the state from the academic session April 2020 to implement the state government's policy decision to open at least one higher secondary school in each gram-panchayat.
"It will not only lead to expansion of higher secondary education in each gram-panchayat but also bring down average fertility rate along with empowerment of women," CM told officials.
He also asked the officials to provide prefabricated rooms at all those schools which do not have necessary infrastructures to begin class-9 from April, 2020. He also ordered for setting up toilets and drinking water facilities at all recently upgraded higher secondary schools for smooth running of classes.
Nitish also asked the officials to make arrangement for proper training or orientation of at least one teacher in each school who can easily explain to students the meaning of stories from two books- "Ek Tha Mohan" and "Bapu Ki Pati". Both books are based on the life and works of Mahatma Gandhi.
As per the state government's decision, stories from both the books are read out in different classes of primary and middle schools, but many schools do not have trained teachers who can explain actual meaning of the stories among the students.
State's deputy CM Sushil Kumar Modi, education minister Krishna Nandan Prasad Verma, chief secretary Dipak Kumar, development commissioner Subhash Sharma, additional chief secretary (education) RK Mahajan, Principal Secretary to CM Chanchal Kumar, the Bihar School Examination Board chairman Anand Kishor and many other senior officials were present at the review meeting.
News Sources https://timesofindia.indiatimes.com/city/patna/nitish-kumar-orders-to-fill-up-32000-posts-of-teachers-in-bihar-schools/articleshow/69612405.cms
---
---
if you have any information regarding Job, Study Material or any other information related to career. you can Post your article on our website. Click here to
Register
& Share your contents.
For Advertisment or any query email us at
educratsweb@gmail.com
Submit Guest Post
Guest Post
Submit Job Information
Submit Contents
Category
Contents
Jobs
Link
Photo
Video
Business Directory
Our presence in social media
Twitter
Facebook
Telegram
Whatsapp Grroup
vk.com
Flipboard
Contact us
Contact us
Explore more
Web Archive
Free Online Practice Set
Our Blog
Search Pincode
Search Bank IFSC Code
Best Deal
Greetings
Recent Jobs
RSS
Advertise with us
Question
follow.it
Sitemap
Tag
Tag
Search
We would love to hear your thoughts, concerns or problems with anything so we can improve our website educratsweb.com !
Email us at
educratsweb@gmail.com
and submit your valuable feedback.
Save this page as PDF