Tag :
#
YOGA
,
OF,
DAY
,
CELEBRATED
,
AT,
COMMAND
,
NAVAL
,
WESTERN
,
INTERNATIONAL
,
COMMAND
,
YOGA
,
OF,
DAY
,
CELEBRATED
,
AT,
NAVAL
,
WESTERN
,
INTERNATIONAL
,
The International Day of Yoga was celebrated at Western Naval Command (WNC), with all serving naval personnel including Defence Security Corps (DSC), the Military Engineer Services (MES), Defence Civilian Employees and their family members enthusiastically participating in the 7th International Day of Yoga on the theme 'Be with Yoga - Be At Home' on 21 Jun 21.
An online yoga session was conducted under the aegis of Navy Wives Welfare Association (Western Region) for the naval community in South Mumbai with the aim to encourage all personnel and their family members to practice yoga on a regular basis for bolstering health and boosting immunity, especially in these trying times. Various asanas were demonstrated through digital platforms and replicated by the enthusiastic participants.
Additionally all sea going units in the WNC also took part in celebrating the day by conducting Yoga sessions at the unit level, both at sea and in harbour, with due observance of all covid protocols. Yoga has been formally assimilated into the Navy's physical fitness regime and had been found to be very beneficial to men at sea given the paucity of space on-board ships.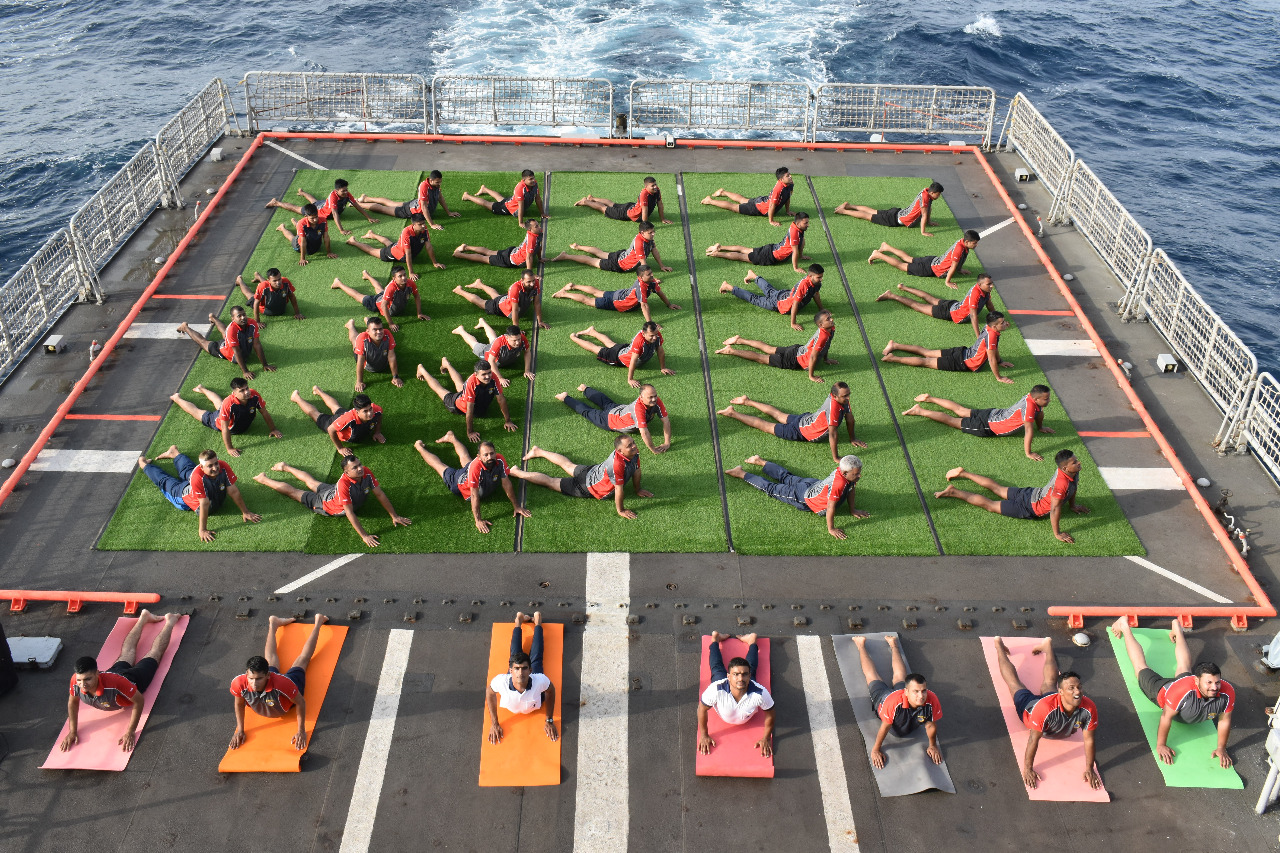 Sources https://www.pib.gov.in/PressReleasePage.aspx?PRID=1729125
---
---
if you have any information regarding Job, Study Material or any other information related to career. you can Post your article on our website. Click here to
Register
& Share your contents.
For Advertisment or any query email us at
educratsweb@gmail.com
Submit Guest Post
Guest Post
Submit Job Information
Submit Contents
Category
Contents
Jobs
Link
Photo
Video
Business Directory
Our presence in social media
Twitter
Facebook
Telegram
Whatsapp Grroup
vk.com
Flipboard
Contact us
Contact us
Explore more
Web Archive
Free Online Practice Set
Our Blog
Search Pincode
Search Bank IFSC Code
Best Deal
Greetings
Recent Jobs
RSS
Advertise with us
Question
follow.it
Sitemap
Tag
Tag
Search
We would love to hear your thoughts, concerns or problems with anything so we can improve our website educratsweb.com !
Email us at
educratsweb@gmail.com
and submit your valuable feedback.
Save this page as PDF