Tag :
#
NTPC
,
NTPC's , a Maharatna CPSU under Ministry of Power celebrated International Yoga Day through today. NTPC's strength lies in its motivated, disciplined and efficient staff, who are always ready to serve the nation in any situation. Keeping up with the world, NTPC Unchahar also took the help of video conference to celebrate Yoga Day, so that Yoga could land at home, with family.


On the occasion of International Yoga Day, yoga was practiced through video conference at NTPC Unchahar. Senior officers performed yoga session at Bal Bhawan and other employees through video conference. Before the start of yoga practice, Chief General Manager of NTPC Unchahar Shri Bhola Nath gave his address, 'Our motto should be Yoga for Peace, Harmony and Progress'. He appreciated the NTPC personnel for spreading the message of Yoga. India is engaged in spreading the message of modern yoga from cities to villages and to the homes of poor and tribal communities. He emphasized the importance of making yoga an integral part of life .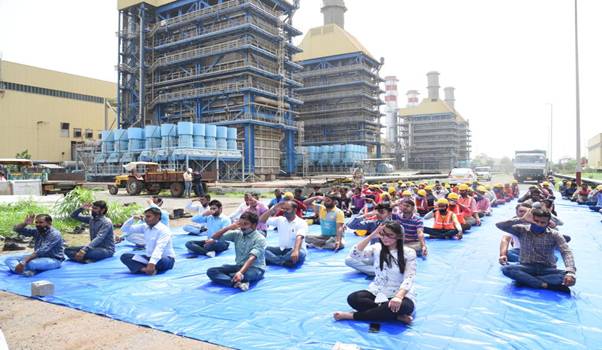 NTPC Unchahar employees nurtured the culture of Yoga with family at their respective homes.
It is worth mentioning that this program is celebrated in NTPC Unchahar with complete solidarity since the time the Yoga practice was started by the Government of India in 2014. The program has been organized in a very systematic manner, in which there has been participation of all sections.
Sources https://www.pib.gov.in/PressReleasePage.aspx?PRID=1728991
---
---
if you have any information regarding Job, Study Material or any other information related to career. you can Post your article on our website. Click here to
Register
& Share your contents.
For Advertisment or any query email us at
educratsweb@gmail.com
Submit Guest Post
Guest Post
Submit Job Information
Submit Contents
Category
Contents
Jobs
Link
Photo
Video
Business Directory
Our presence in social media
Twitter
Facebook
Telegram
Whatsapp Grroup
vk.com
Flipboard
Contact us
Contact us
Explore more
Web Archive
Free Online Practice Set
Our Blog
Search Pincode
Search Bank IFSC Code
Best Deal
Greetings
Recent Jobs
RSS
Advertise with us
Question
follow.it
Sitemap
Tag
Tag
Search
We would love to hear your thoughts, concerns or problems with anything so we can improve our website educratsweb.com !
Email us at
educratsweb@gmail.com
and submit your valuable feedback.
Save this page as PDF