Tag :
#
I-STEM
,
R&D
,
GOI
,
The Indian Science Technology and Engineering facilities Map (I-STEM), the national web portal for sharing R&D facilities was formally launched in January 2020 by the Honorable Prime Minister Shri Narendra Modi. I-STEM (www.istem.gov.in) is an initiative of Office of the Principal Scientific Adviser to the Govt. of India (PSA, GOI) under the aegis of Prime Minister Science, Technology and Innovation Advisory Council (PM-STIAC) mission. I-STEM project has been accorded extension for five years,until 2026 and enters its second phase with added features.
The goal of I-STEM is to strengthen the R&D ecosystem of the country by connecting researchers with resources, in part by promoting technologies and scientific equipment development indigenously, and providing necessary supplies and supports to researchers by enabling them an access to existing publicly funded R&D facilities in the country through the I-STEM web portal.
In the first phase, the portal is listed with more than 20,000 pieces of equipment from 1050 institutions across the country and has more than 20,000 Indian researchers. I-STEM portal facilitates researchers to access slots for the use of equipment, as well as to share the details of the outcomes, such as, patents, publications and technologies. Under Phase II, the portal will hostindigenous technology products listedthrough a digital catalogue. The portal will also provide a platform for the various City Knowledge and Innovation Clusters (https://www.psa.gov.in/st-clusters) supported by the Office of PSA to enhance effective use of R&D infrastructure through leveraging collaboration and partnershipbuilt on a shared STI ecosystem. It will also host and provide access to selected R&D software required to undertake research projects by students and scientists. The I-STEM portal in its new phase will be designed as a dynamic digital platform that will provide boost to research and innovation especially for 2 tier and 3 tier cities and also for the emerging start-up ecosystem.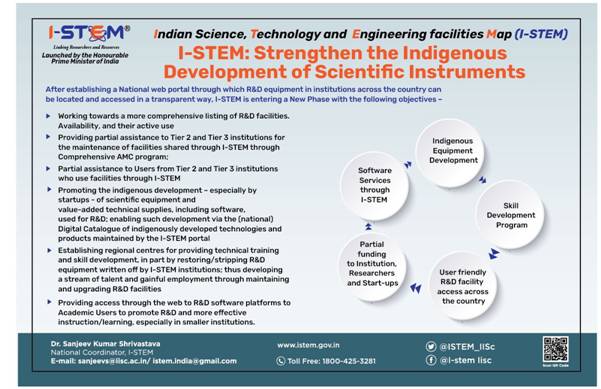 Sources https://www.pib.gov.in/PressReleasePage.aspx?PRID=1738848
---
---
if you have any information regarding Job, Study Material or any other information related to career. you can Post your article on our website. Click here to
Register
& Share your contents.
For Advertisment or any query email us at
educratsweb@gmail.com
Submit Guest Post
Guest Post
Submit Job Information
Submit Contents
Category
Contents
Jobs
Link
Photo
Video
Business Directory
Our presence in social media
Twitter
Facebook
Telegram
Whatsapp Grroup
vk.com
Flipboard
Contact us
Contact us
Explore more
Web Archive
Free Online Practice Set
Our Blog
Search Pincode
Search Bank IFSC Code
Best Deal
Greetings
Recent Jobs
RSS
Advertise with us
Question
follow.it
Sitemap
Tag
Tag
Search
We would love to hear your thoughts, concerns or problems with anything so we can improve our website educratsweb.com !
Email us at
educratsweb@gmail.com
and submit your valuable feedback.
Save this page as PDF